Newsletter January, 2016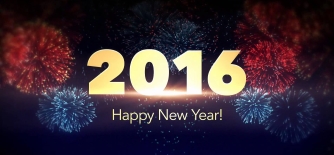 In this issue:
---
Veerabhadrasana (Warrior Pose 1)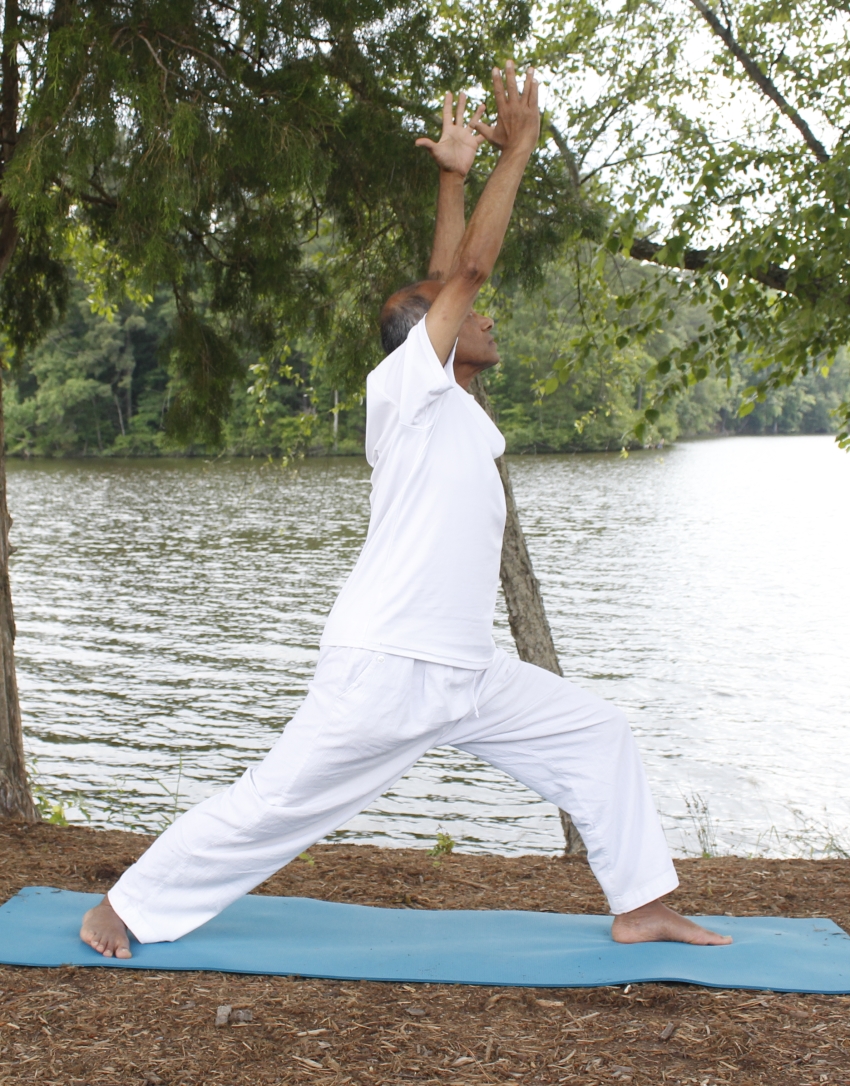 Veerabhadrasana  (वीरभद्रासन) or the Warrior Pose 1, along with its two siblings called Warrior 2 and Warrior 3, is one of the very commonly practiced asanas. This is a powerful and energizing pose, especially useful for strengthening the leg, hip and thigh muscles.
In my own practice and the classes that I teach, I integrate the practice of Warrior poses as a part of the Surya Namaskar (Sun Salutation) sequence. However, all three variations of the Warrior pose can be practiced independently as standing poses. 
Hope you will enjoy practicing with my good friend Tanu in the video sequence.
---
Reclining Twist to relieve back pain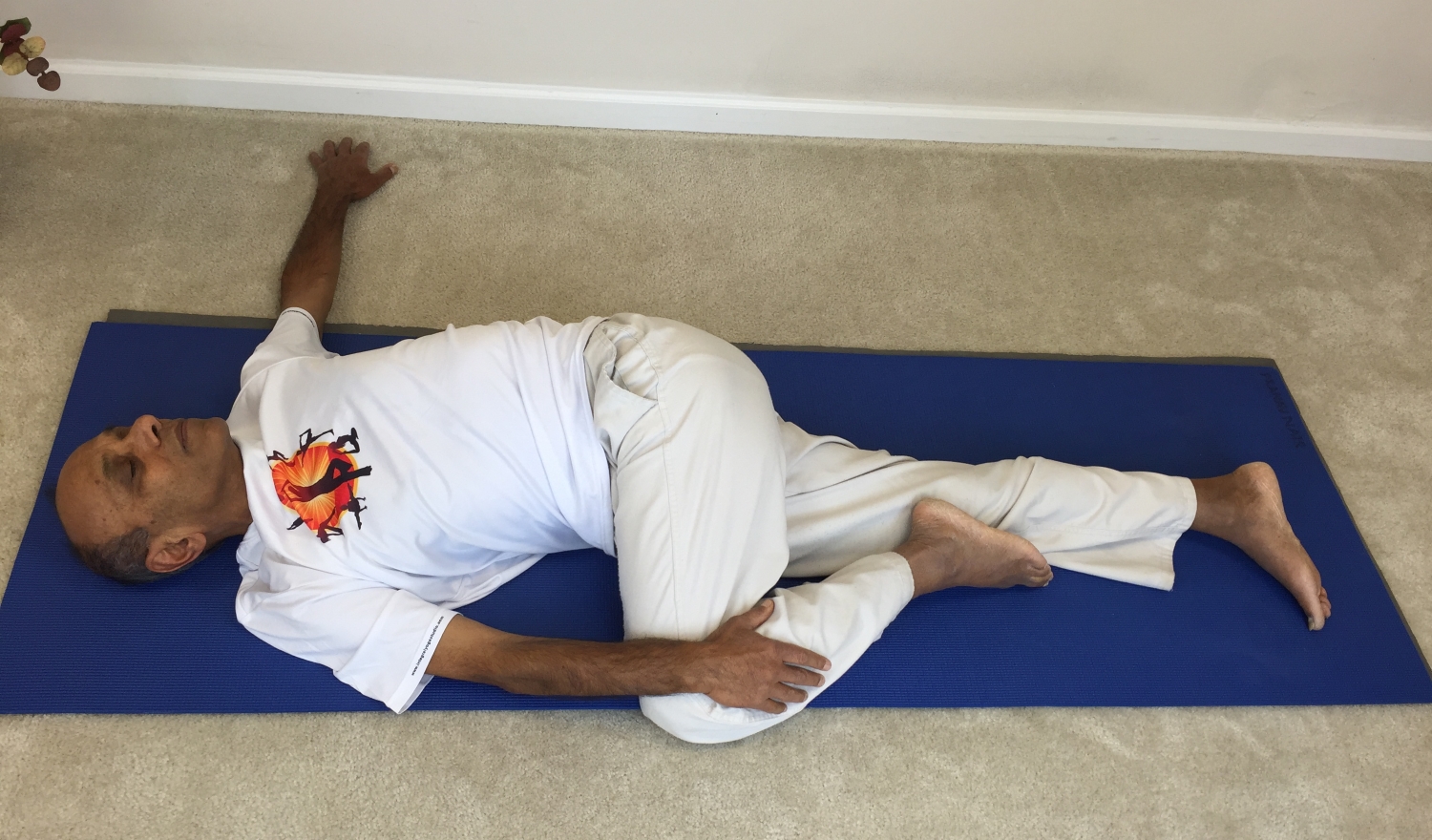 Lower back pain is perhaps the single most commonly mentioned reason why people join yoga classes. There are several yoga poses that are recommended for taking care of lower back pain - for example, Marjarasana (cat & cow), Pawanamuktasana (wind-relieving pose), Balasana (child pose), all twisting poses etc. One of the poses that I personally enjoy and recommend highly is the Reclining Twist. In Sanskrit, it is variously named as Jathara Parivartanasana - जठरपरिवर्तनासन - (Abdomen Turning), Udarakarshanasana - उदराकर्षणासन - (abdominal stretching), and Supta Matsyendrasana - सुप्तमत्स्येन्द्रासन - (Reclining twist).
The reclining twist is what I call a "feel good asana" as it stretches multiple parts of the body in a gentle way and brings about a sense of refreshing rejuvenation and detoxification.
---
Yoga philosophy workshop series
As many of you may be aware, I have been offering a monthly workshop on various aspects of yoga philosophy at the studio. These workshops are normally held on the 3rd Saturday of the month. My main objective in teaching these sessions is to share the underlying concepts of the practice of yoga as given in the ancient yoga texts.
I started these workshops with the main intent of discussing the Yoga Sutras of Patanjali. In his Yoga Sutras, Patanjali has provided the very essence of the philosophy and teachings of yoga in a highly scientific and systematic exposition.
---
Upcoming Programs
21-day Yoga Immrersion, Jan 4-24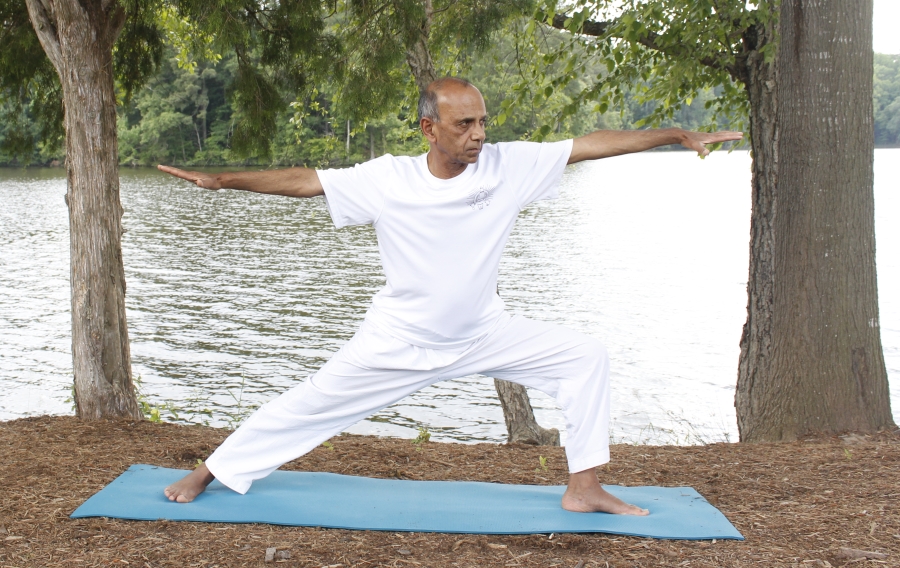 Virabhadrasana (Warrior2)
I am pleased to announce the next 21-day Yoga Immersion program. The past programs have been very well received by all the participants. For most of them, it has been truly a life-transforming experience. I invite you to join me on this exciting and deeply rewarding 21-day yoga journey. Here are the particulars:
What: 21-day yoga immersion
When: Monday, January 4 - Sunday, January 24, 2016
Time: 6:00 AM - 7:30 AM
Where: 4000 Bear Cat Way, Suite 102, Morrisville, NC 27560
Cost: $125
Commitment:

A firm commitment to complete the program without missing a day
At the end of the program, continue the same practice at home for another 21 days to make it a life-long habit

---

Understanding the Mind to eliminate Stress

What: An Introduction to the Yoga Sutras of Patanjali
When: Third Saturday of the month
Next Session: Saturday, January 16, 2016
Focus: Introduction to Yoga Sutras of Patanjali
(see below for more details)

TIME: 2:00 - 4:00 PM
LOCATION: 4000 Bearcat Way, Suite 104, Morrisville, NC 27560
FEE: by voluntary donation
To register: please fill out the registration form

---

Nature Cure and Wellness Seminars by Dr. Arun Sharma

My friend, Kumar Senthil, is organizing two programs on nature cure and wellness by Dr. Arun Sharma as follows:

Nature cure seminar

Saturday, January 9, 2016; 6:00-9:00 PM
Topics covered: Natural food preparation, yoga and breathing techniques
Fee: FREE
Venue: Integral Yoga Studio, 4000 Bear Cat Way #102, Morrisville, NC 27560

Nature Cure Workshop

Sunday, Jan 10th, 2016; 9:00 am to 12:00 pm
Venue: 2004 Winterborne drive, Cary, NC 27519
Topics covered: This session will include a combination of topics including hydro and solar therapies, a discussion of healthy meal plans, yoga asanas, meditation, cooking demonstrations, specific treatments of ailments or diseases, etc.
Fee: Suggested donation $30 per family

---

Gentle yoga with Jyoti, 8-week session

Gentle Yoga

When: Every Thursday for eight weeks
Next session starts: Thursday, January 7, 2016
Time: 6:00 - 7:15 PM
Where: 4000 Bear Cat Way, Suite 102, Morrisville, NC 27560
Fee: $88 (for full series); $13 (drop-in)

Pre-registration recommended

Instructor: Jyoti Shah
Contact: to sign up or if you have questions

Jyoti Shah: 919-439-0377, jyoti@yogasheila.com

Subhash Mittal : 919-926-9717, subhashmittal@gmail.com

Click here  to fill out the student information and waiver form for Gentle yoga.

---

Yoga in the News

'Trauma-centered yoga' helps patients with PTSD and chronic pain

A 2014 study conducted by researchers at the Trauma Center at the Justice Resource Institute in Brookline, Mass., and published in the Journal of Clinical Psychiatry tested trauma-sensitive yoga on 64 women who had been raped or violently physically assaulted.They were assigned to either a control group with a health-education class or a group that practiced trauma-informed yoga; both groups met in weekly one-hour sessions for 10 weeks. Researchers found that yoga had helped the women tolerate physical and sensory experiences connected to the fear and helplessness of their trauma.

Research: Yoga in the classroom

"We collected data that showed the more involved they are in yoga class, the better their mood–less negative emotion, more positive emotion–and it looks like students tend to have better attendance,"

12 Minutes of Yoga for Bone Health

Yoga enthusiasts link the practice to a long list of health benefits, including greater flexibility and range of motion, stronger muscles, better posture and balance, reduced emotional and physical stress, and increased self-awareness and self-esteem.

Why NYU's B-School Teaches Mindfulness

Once they're introduced to the theory and techniques of meditation, mindful pauses, reflective listening, and other mindfulness practices, however, they repeatedly ask for more. The practices not only build students' skills as future managers and leaders, they also enhance their emotional intelligence and deepen their often-stressful, results-driven lives.

---

Have a question/suggestion?

If you have a yoga-related question, please write to me and I would do my best to provide an answer in a timely manner. I would love to hear your suggestions for future newsletter articles.

back to top