Consciousness and Awareness
Consciousness and awareness – two words that sometimes are used interchangeably. Do they mean the same thing? If not, what is the difference between them?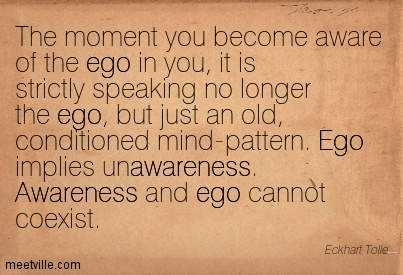 Ego and Awareness
We commonly hear a story like – "the boy fell down, his head hitting a stone and he become unconscious. By the time the paramedics came, he had regained his consciousness and became slowly aware of the surroundings". Here, we notice that the boy had to regain consciousness to have awareness. Thus, these are two separate concepts. From the yoga perspective, consciousness is an attribute of the pure soul, called "Purusha" in the Yoga Sutras of Patanjali. Awareness is an attribute of the intellect which is a part of the phenomenal entity called "Prakriti".
As you may have heard, only Purusha or the soul (atman) has consciousness. That is why Purusha is often referred to as "pure consciousness". The intellect or the Prakriti has no consciousness of its own. It is the "borrowed" or reflected consciousness from the soul that the intellect uses for its working. Using this borrowed consciousness, the intellect becomes "aware" of the various elements of Prakriti.