Newsletter February, 2012
In this issue:
12-day Pranayama/Meditation Intensive, starts Feb 8
Come and join me for this life-transforming experience where you will learn two of the most important aspects of a complete yoga practice - pranayama (breathing techniques) and meditation. No prior pranayama or meditation experience is required.
When: Wednesday, February 8- Sunday, February 19, 2012
Time: 6:00 – 7:30 AM
Location:
Kalasrishti, 3000 Bearcat Way, Suite 112, Morrisville, NC 27513 (off Aviation Parkway)
Fee: $75
Please visit here for more details...
---
New students - Unlimited yoga for $40 during February
New students can enjoy unlimited yoga during February or only $40. Please visit the schedule page on my website for the current schedule. Contact me via phone or email if you would like to sign up.
---
Parshvottanasana - Standing Side Stretch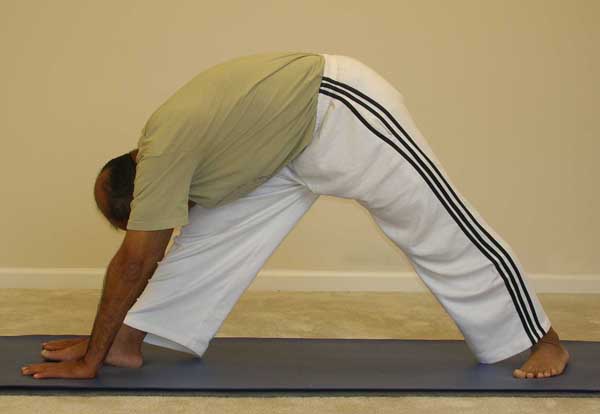 Parshvottanasana (पार्श्वोत्तानासन) (standing side stretch) is a beginning to intermediate level pose which is great for the health of the legs as well as the spine. It provides an excellent stretch for the entire back side of the legs, hamstrings in particular.
---
Brahmacharya (Austerity)
Brahmacharya is perhaps one of the more difficult of the yamas to understand as well as to discuss and explain. In a very traditional sense, brahmacharya means strict sexual control or total celibacy. In India, when a person takes a vow to never get married, he is referred to as a "brahmachari".
The well-known rishi Yajnavalkya says, "Brahmacharya is abstaining from all kinds of Maithuna or sexual enjoyment for ever, in all places and in all conditions, physically, mentally and verbally. "
---
Two Delicious Recipes
Gluten free/Sugar free Banana Bread
Caponata Recipe
At the end of the last 21-day yoga challenge program, as per our tradition, all the participants got together over a potluck breakfast. Here are the recipes for two of the many delicious dishes that we enjoyed that day. I would like to express my gratitude to Joanne Healey and Pat McElroy for sharing these recipes.
---
Yoga in the News
Jane Fonda on the "ever-evolving Spirit"
Entropy means that everything in the world… everything… is in a state of decline and decay; the arch. There's only one exception to this universal law and that is the human spirit which can continue to evolve upwards [along] the staircase bringing us into wholeness, authenticity, and wisdom; and here's an example of what I mean… this upward ascension can happen even in the face of extreme physical challenges.
How Yoga can Wreck Your Body
This is one of the highly controversial articles that appeared in a recent edition of NYT. You only have to visit the page on NYT and go through the comments to see the level of interest this article has generated. In my opinion, the main reason why people get hurt in yoga (or any other physical exercise for that matter) is because they allow their ego to dictate how far they should go in a particular pose. Keeping this simple definition - 'pose should be steady and comfortable" - in mind will keep the practice safe and healthy.
---
Have a question/suggestion?
If you have a yoga-related question, please write to me and I would do my best to provide an answer in a timely manner. I would love to hear your suggestions for future newsletter articles.
back to top