Newsletter February, 2015
In this issue:
---
Surya Namaskar origins – how Hanuman almost swallowed the Sun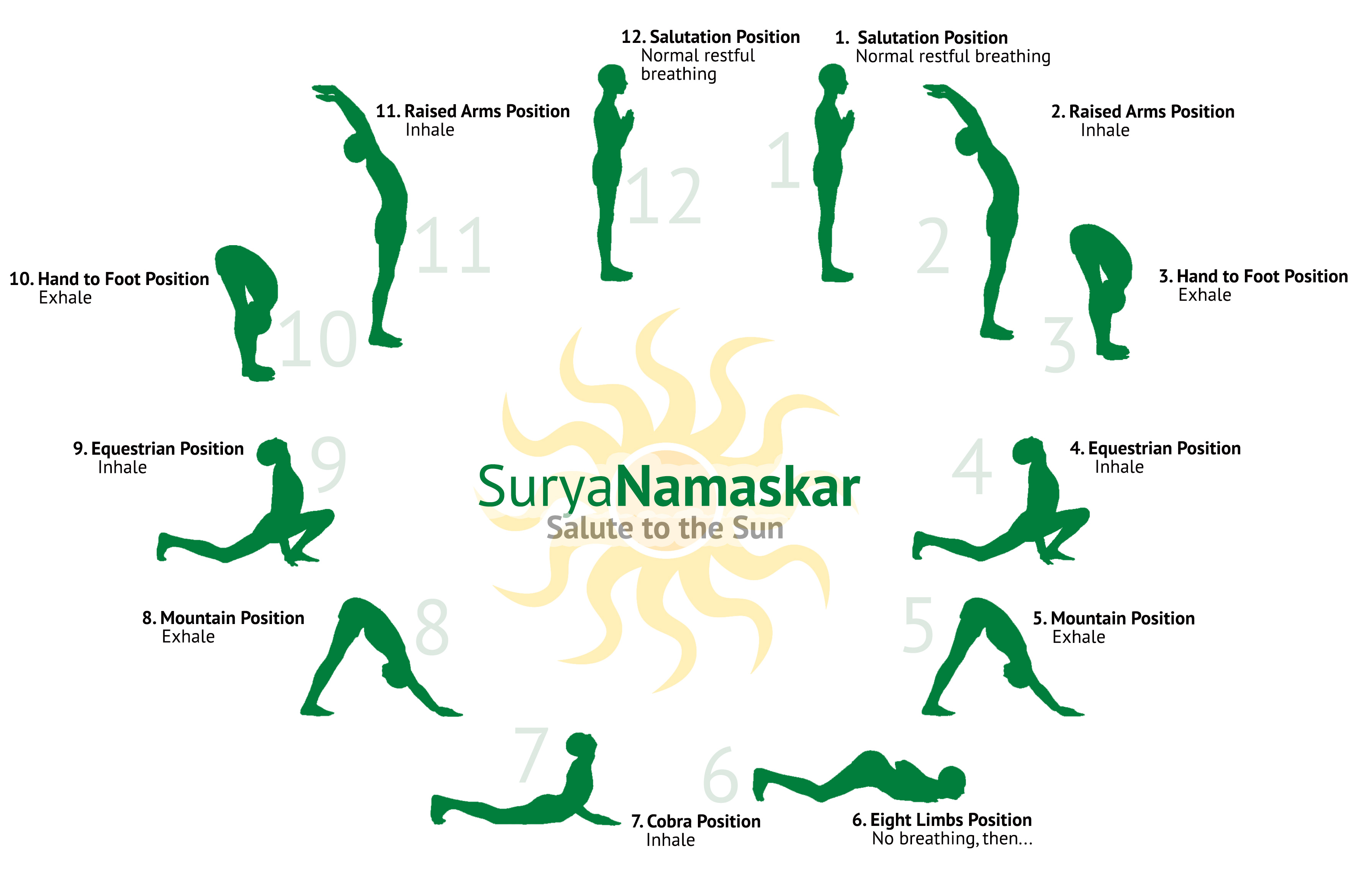 Surya Namaskar sequence
Surya Namaskar (Sun Salutation), in some form or another, is an integral part of most styles of yoga that are practiced today. Integral Yoga (the style that I practice and teach), Shivananda, Kripalu, Power yoga, Vinyasa, Flow yoga, hot yoga ... to name just a few of the more commonly practiced styles today - all include some variation of Surya Namaskar as a part of their yoga routine. As we know, most yoga practices have their origins in the ancient yoga texts related to the philosophy and practice of yoga. The two most commonly referenced texts for the practice of Hatha Yoga are the Hatha Yoga Pradipika and the Gheranda Samhita. However, when you look at these two texts, you will find that no mention has been made of the practice of Surya Namaskar. So the question that comes to mind is "how come Surya Namaskar is such a common component of all Hatha Yoga practices today when it not even mentioned in any of the ancient yoga texts?".
---
Agni-stambhasana (Fire log pose)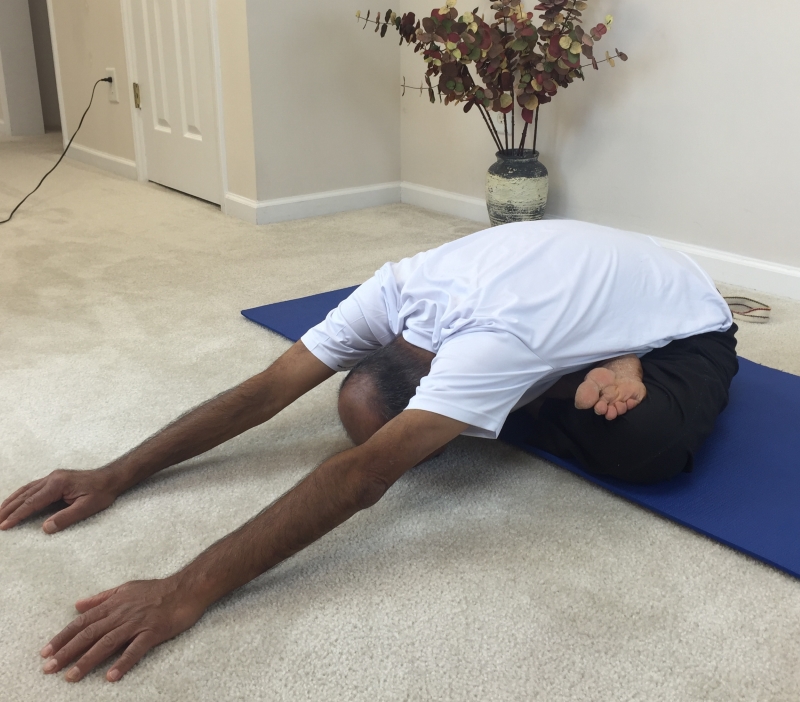 Agni Stambhasana (Firelog pose)
If you haven't tried the pose before and you look at a picture of the pose, the Agni-stambhasana [audio:http://www.integralyogastudio.com/sounds/agni-stambha.mp3] may seem deceptively simple. However, if you have tightness in the hips, knees or the ankles, this pose can become quite challenging. The word agni-stambha (अग्नि-स्तम्भ) is a composite of two Sanskrit words - Agni means fire and stambha can mean a pillar, a support or just a log. So this name is usually translated as the fire-log pose. In the final position, the position of legs in the pose gives the impression of a couple of fire logs stacked one on top of the other. When you practice the pose, it may actually give you a burning sensation in your hips or knees.
---
Upcoming Programs
14-day Pranayama/Meditation Intensive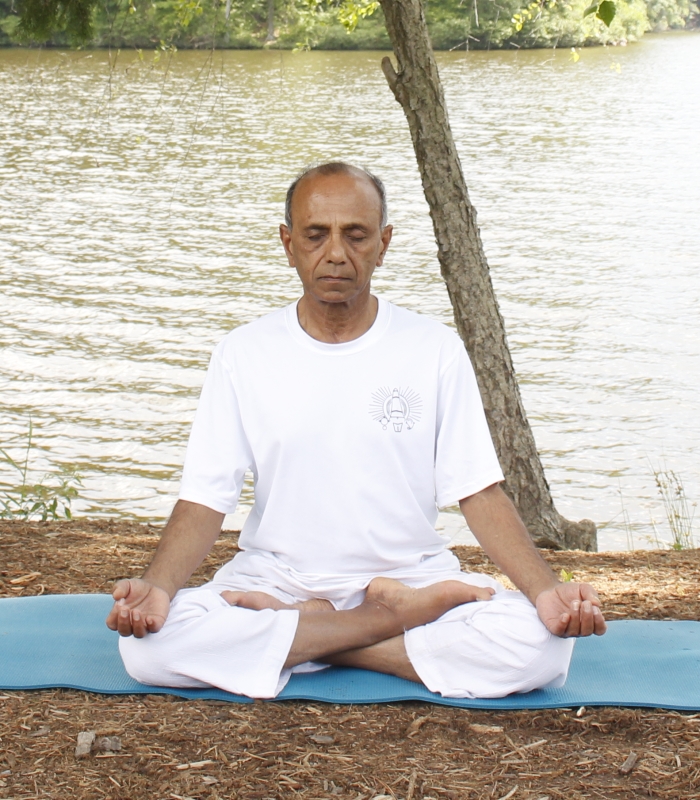 Padmasana (Lotus Pose)
I invite you to join me for this life-transforming experience where you will learn two of the most important aspects of a complete, integrated yoga practice - pranayama (breathing techniques) and meditation.
When: Monday, February 2 - Sunday, February 15, 2015
Time: 6:00 – 7:30 AM
Location: 4000 Bearcat Way, Suite 102, Morrisville, NC 27560
Daily Routine: (approximate) - Light stretching (10-15 minutes), Pranayama (30 min), Relaxation (10 min), Yoga philosophy (15 min), Meditation (20 min).
Commitment: A firm commitment to follow this schedule and attend every day
Fee: $90
---
Understanding the Mind to eliminate Stress
What: An Introduction to the Yoga Sutras of Patanjali
When: First Saturday of the month
Next Session: Saturday, February 7, 2015
Focus: Eight Limbs of Yoga (Ashtanga Yoga)
(see below for more details)

TIME: 1:30 - 3:30 PM [please note the earlier start time this month]
LOCATION: Integral Yoga Studio, 4000 Bearcat Way, Suite 104, Morrisville, NC 27560
FEE: by voluntary donation
---
New 8-Week Daytime Yoga Session, Wednesday, February 11
What: 8-week session, Level 1 yoga class
When: Every Wednesday, 9:30-11:00 AM
Starting Date: Wednesday, February 11, 2015
Location: 4000 Bearcat Way, Suite 102, Morrisville, NC 27560 (off Aviation Parkway)
Fee: $80
---
Yoga in the News
Yoga a great way to lose weight, get in shape
"A study published in the European Journal of Preventive Cardiology found that compared to people who didn't work out, those who practiced yoga showed significant improvement in heart rate, blood pressure, cholesterol and BMI."
San Francisco Schools Transformed By The Power Of The Quiet Time Program
"Can Transcendental Meditation help at-risk students reduce stress and learn better? NBC Nightly News reports on several schools in San Francisco where over 1,800 students, faculty, and administrators practice the stress-reducing, evidence-based Transcendental Meditation technique—with remarkable results."
ASU researchers study impact of yoga on PTSD
"Yoga is about being embodied, present, compassionate and expressing gratitude. It's about having a relationship with the self and just 'being,'" Huberty said. "The principals that you learn on the mat and the relationship you build with the self enrich the life you live off of the mat."
Mindfulness - CBS News - Anderson Cooper's experience with meditation
Anderson Cooper reports on what it's like to try to achieve "mindfulness," a self-awareness scientists say is very healthy, but rarely achieved in today's world of digital distractions
---
Have a question/suggestion?
If you have a yoga-related question, please write to me and I would do my best to provide an answer in a timely manner. I would love to hear your suggestions for future newsletter articles.
back to top