Newsletter March, 2013
In this issue:
---
21-day Yoga Challenge, March 4-24
I am pleased to announce the next 21-day Yoga Challenge program:
When: Monday, March 4- Sunday, March 24, 2013
Time: 6:00 AM - 7:30 AM
Location: Raleigh Institute of Martial Arts,
1103 Copeland Oaks, Morrisville, NC 27560
Commitment:

A firm commitment to complete the program without missing a day
At the end of the program, continue the same practice at home for another 21 days to make it a life-long habit

Cost: $125
Please contact me if you would like to participate.
---
Surya Namaskar Yogathon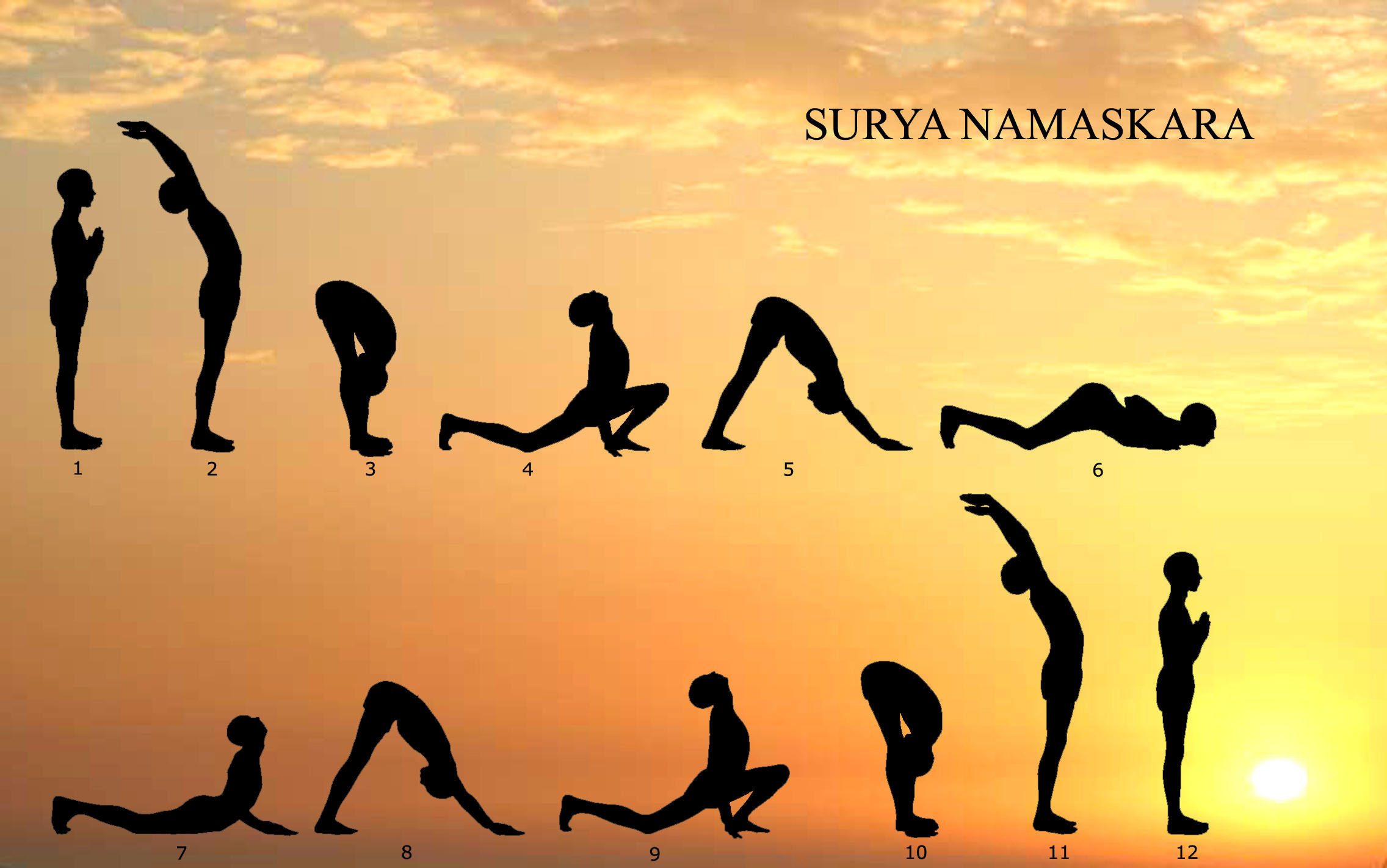 I invite you to join us for this memorable yoga event where we will practice 108 rounds of Surya Namaskar (Sun Salutations).
Event: Surya Namaskar Yogathon (108 rounds of Sun Salutations)
Location: Hindu Temple (HSNC) 309 Aviation Parkway, Morrisville, NC 27560; temple phone: (919) 481-2574
When: Saturday, March 2, 2013, 6:30 AM to 11:30 AM
Program Fee (including lunch): $15 with pre-registration or $20 on the day of the event.
Lunch: Vegetarian lunch will follow the event
Please see the flyer here for more details.
---
Eight Limbs of Yoga
Can yoga help us reduce stress? Can it make us more aware of our own actions and take more ownership of our actions and their outcomes? Can it help us with negative emotions like anger, fear, jealousy, hatred etc? The answer to all these and many more questions that may come to your mind is a thumping "YES". However, to get all those benefits, we need to turn to Patanjali who in the Yoga Sutras has enumerated eight limbs of yoga.  By practicing these eight limbs of yoga we can indeed get all the benefits and strive to achieve our highest potential in life, in all spheres of our activity.
---
Kundalini, Chakras, Bandhas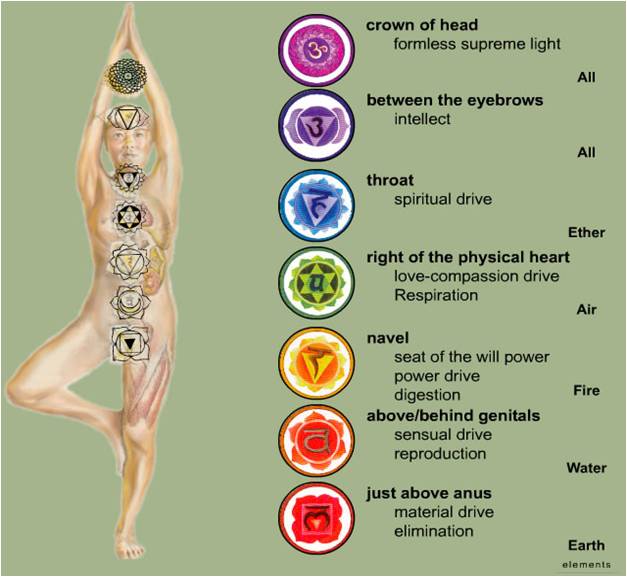 The concepts of Kundalini and Chakras are derived from the ancient wisdom of the Tantras. We normally associated all yoga-related knowledge with Patanjali's Yoga Sutras. In the yoga sutras, Patanjali did not mention about the kundalini or the chakras because his main focus was to control the fluctuations of the mind through meditative practices. Subsequently, the practice of Hatha Yoga was developed and presented in the Hatha Yoga Pradipika (HYP) by Swatmarama. The HYP combined the ancient practices of tantra along with the concepts from Yoga Sutras which is what is currently practiced as Hatha Yoga by most practitioners of yoga.
---
What Distracts the Mind – the Five Vrittis
As we have seen before, yoga has been defined in yoga sutras by Patanjali as "yogash-chitta-vritti-nirodhah" or "yoga is the cessation of the fluctuations of the mind-field". Put another way, yoga is the ability to keep the mind calm and peaceful under all circumstances. In order to understand how to keep the mind calm, it is essential first to understand what distracts the mind all the time. The term used by Patanjali for these distractions or perturbations of the mind is "vritti". After providing a basic definition of yoga, Patanjali goes on to describe the five "vrittis" which cause disturbance in the mind.
---
Yoga in the News
Benefits of Yoga—What the Research Says
Two recent studies show that regular yoga practice can help improve atrial fibrillation (irregular heartbeat) and common psychiatric disorders.
Mind your mind to stay healthy
"Treating illnesses alone is not such a lucrative business. Going after people who are well simply means that the entire population becomes our patient, on any given day. Doctors cannot live without patients; but patients can live without doctors for sure! The medical establishment is after 'treating' pre-diabetes, pre-hypertension, etc, which are only illusions. "
---
Have a question/suggestion?
If you have a yoga-related question, please write to me and I would do my best to provide an answer in a timely manner. I would love to hear your suggestions for future newsletter articles.
back to top