Newsletter April, 2014
In this issue:
---
New Fee Plan - ongoing classes will be donation based
Effective immediately, we will offer all the following ongoing classes (see current schedule) on a "voluntary donation" basis:
Monday, Tuesday, Wednesday, Thursday (all 6:30-8 PM), Saturday 10:30 AM - 12 noon.
The following fixed-duration programs (and any other similar programs that we may add in the future) that are offered periodically, will continue to be offered on a fixed fee basis: 21 day Yoga challenge, 12 day Pranayama/Meditation intensive, 8-week daytime yoga session on Wednesday at 9:30-11 AM.
---
Workshop on Upper Body Therapeutics
When: Saturday, April 12, 2-4 PM
Where: 4000 Bearcat Way, Suite 102, Morrisville, NC 27560
Fee: $20 (pre-registration); $25 (day of the event)
Instructor: Jyoti Shah; call Jyoti at 919-439-0377 to sign up or if you have questions
Work related habits, postural patterns, repetitive activities and injuries, sedentary lifestyle or simple ageing can cause discomfort, chronic pain and tightness in your neck, shoulder and throughout the upper back. Stop adopting incorrect ways to stand and sit that creates postural imbalance. Doing occasional stretch here and there will not help. It's like eating cookies all day, then doing exercise for 10 minutes and wondering, hmmm… why it doesn't work.
Bring more awareness to the habits and patterns that create greater balance and ease in your body. Learn specific stretches and yoga techniques to alleviate stiffness, restriction, compression or discomfort and create greater freedom of movement. Bring this practice of retraining and strengthening the muscles into your day to day routine.
No prior yoga experience required; Pre-registration is strongly recommended.
---
EFT Tapping classes for two weeks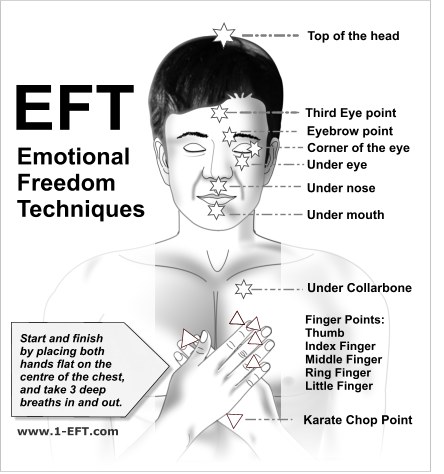 EFT-diagram-energy
EFT Tapping classes for Health, Wellness, Weight Loss, Happiness, Self Esteem- Rewire & Reprogram your subconscious mind.
When: Mon, Wed, Fri for 2 weeks, April 7, 9, 11, 14, 16, 18, 6-7 pm
Where: 4000 Bearcat Way, #104, Morrisville, NC 27560
Cost: $5 per class
Instructor: Joanne Healey, M.S. Counseling, Artist, Angel Psychic Reader, has run wellness groups for over 20 years. Contact for any questions (941-773-7220)
Many people today are finding a great tool for change with EFT (Emotional Freedom Technique). This class is designed to help you change your habits related to being well, making healthy choices, getting over illness and losing weight. Learn and practice simple techniques to help you strengthen your sense of Self and repattern your brain for success. Positive support and accountability, relaxation, visualization, EFT, Energy Medicine and breath work. These 2 weeks of classes is designed to help you get in the habit of tapping for health and wellness. Come out and give it a try. You can attend 1 or as many as desired.
---
Building strength with Yoga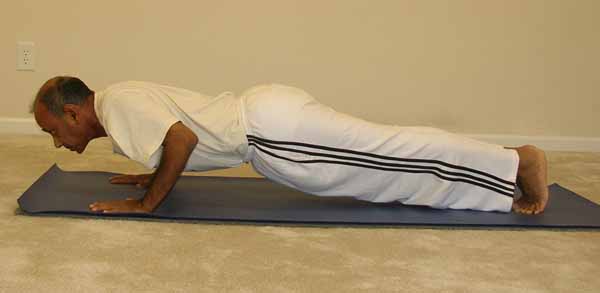 Chaturanga (Four-limbed Staff Pose)
Yoga offers a multitude of benefits at all levels - physical, physiological, mental, emotional, spiritual and deeper. This article in the Yoga Journal lists 38 different ways in which yoga keeps you fit and healthy at various levels. However, most of the these benefits can be combined under these four broad categories:
Strength
Flexibility
Endurance
Balance
Yoga helps make us strong at various levels - physical, mental, emotional and spiritual.
---
Strengthen your spine with Chakrasana (Wheel Pose)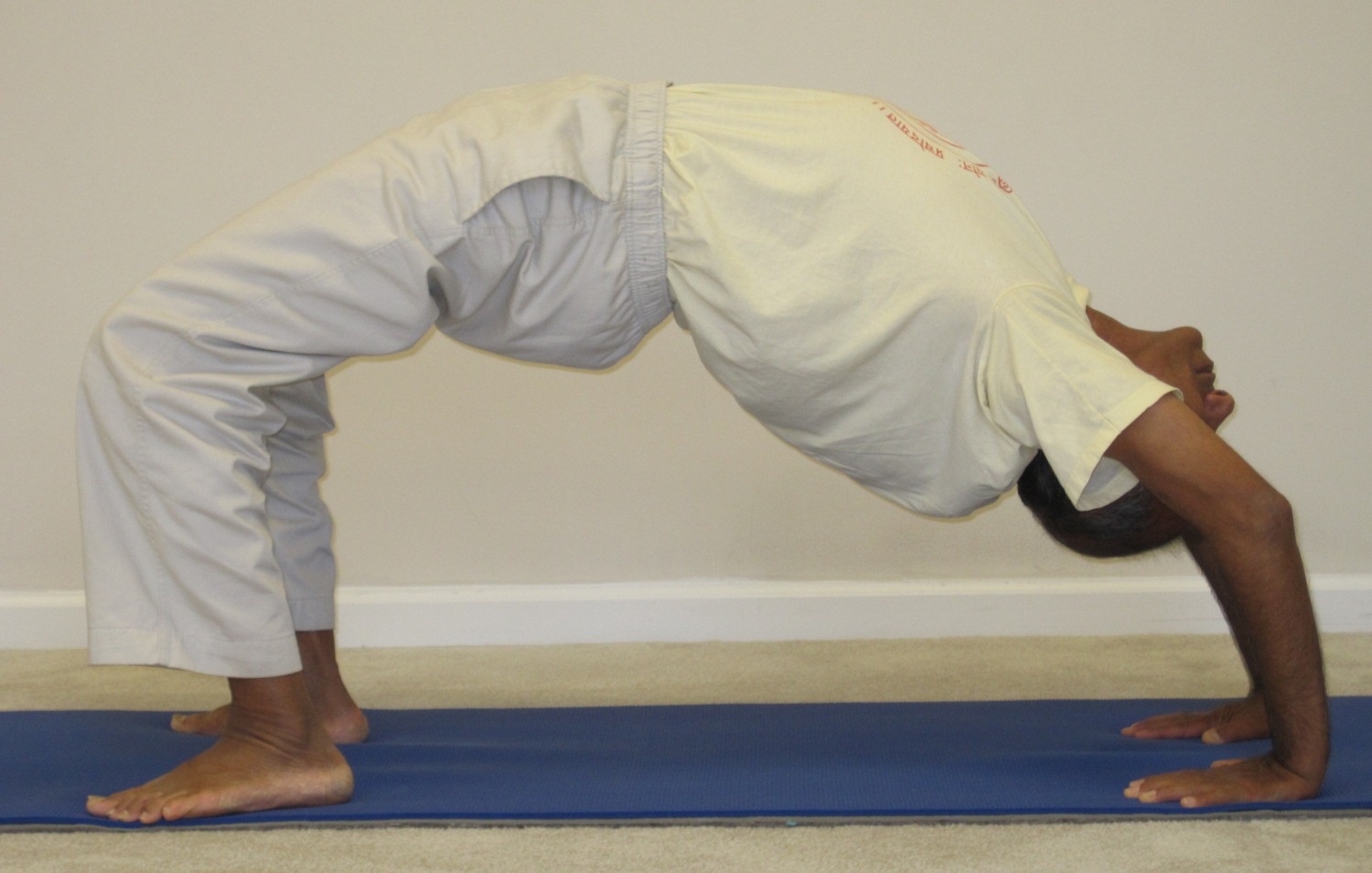 Chakrasana (Wheel Pose)
Chakrasana - चक्रासन - (Wheel Pose), also known as the Urdhva Dhanurasana - ऊर्ध्व धनुरासन - (Upward Bow Pose), is a challenging pose which has tremendous benefits for the strength and suppleness of the spine. In the final position it looks like an inverted bow or a semi-circle - hence the two common names for the pose.
---
Yoga in the News
Maysoon Zayid - an inspiring story
"I got 99 problems... palsy is just one"
"But one miracle cure we did find was yoga. I have to tell you, it's very boring, but before I did yoga, I was a stand-up comedian who can't stand up. And now I can stand on my head."
Watch this inspiring video of a comedienne who suffers from cerebral palsy
5 Surprising Health Benefits of Yoga
Some interesting research-based benefits of yoga
---
Have a question/suggestion?
If you have a yoga-related question, please write to me and I would do my best to provide an answer in a timely manner. I would love to hear your suggestions for future newsletter articles.
back to top