Newsletter May, 2014
In this issue:
---
Introduction to Yoga Sutras of Patanjali
A four-part series
WHEN: First Saturday of the month
Next Session: Saturday, May 3, 2014 (part 1)
Focus: Definition of yoga, how the mind functions, what distracts the mind, how to keep the mind steady
TIME: 2:30 - 4:30 PM (Please note change in time from the previous announcement)
LOCATION: Integral Yoga Studio, 4000 Bearcat Way, Suite 102, Morrisville, NC 27560
FEE: by voluntary donation
---
Structured Fee Plan Reinstated
As you know, exactly a month ago, on April 1, I announced that the fee for all the ongoing weekly classes would be based on "voluntary donations". My hope and desire was to extend the reach of yoga to a much wider segment of the community so more people could enjoy the benefits of yoga.
It didn't work!
---
Pawana-muktasana (Wind Releasing Pose)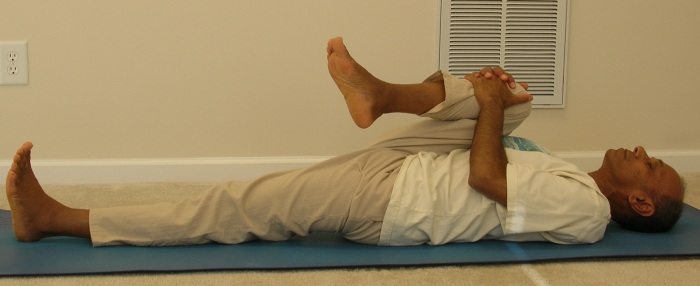 Pawana Muktasana
Pawana-muktasana (PMA) - पवनमुक्तासन - is a simple asana, easy to practice, and yet has many far-reaching benefits. It is a great pose for eliminating excess gases from the digestive tract, strengthening the core muscles, massaging the internal organs and giving relief to the lower back.
The name of the asana is a composite of two words - pawana means the wind or air and mukta means liberated or released. So, the common English translation for the pose is "Wind releasing pose".
---
Yoga and flexibility
In one of the previous articles, I talked about strength and how yoga helps us build strength at physical, physiological, mental and emotional levels. In today's post, I would like to discuss one of the other commonly recognized benefits of yoga - flexibility. Again, we'll be looking at how yoga can help improve flexibility at various levels.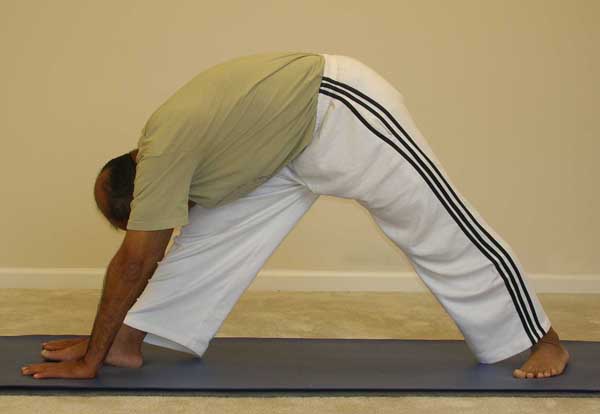 Parshvottanasana
Physical flexibility
When we talk of flexibility, most people identify it with flexibility at the physical level. That usually implies flexibility of various joints, muscle tissues, ligaments, skin etc. Most yoga asanas are intended to increase flexibility in all these areas.
---
New student discount for May 2014
Join any time during the month of May and enjoy a full month of unlimited yoga classes for only $30. Given that we offer 20 ongoing class in a month, that's $1.50 per class!
---
Yoga in the News
Can Yoga beat infertility?
"Yoga practice is well-known for optimising the work of the endocrine system, thereby balancing the hormones. Practicing yoga will bring more blood to the pelvis, improving the sexual health, whilst mindful breathing will shut the constant chatter of the mind, decrease the heart rate and instantly relax."
Yoga can help relieve symptoms of post-traumatic stress disorder (PTSD)
"Post-traumatic stress disorder is defined as when a patient continues to feel stress and fear even after the danger is over. Treatment usually includes therapy, which has proven highly successful. Now new research suggests there is another way patients can heal: yoga."
Yoga can reduce stress levels during pregnancy
"Doing yoga can reduce the risk of developing anxiety and depression for pregnant women, according to a new study. The research, conducted by Newcastle University, is a first in the country and scientifically studied the effects of yoga on pregnant women."
---
Have a question/suggestion?
If you have a yoga-related question, please write to me and I would do my best to provide an answer in a timely manner. I would love to hear your suggestions for future newsletter articles.
back to top