Newsletter June, 2012
In this issue:
21-day Yoga Challenge June 11-July 1
New student discount during June
Swadhyaya (Study of Self)
Utthita-hasta-padangushthasana (Standing hand to toe)
Yoga in the News
21 days to Transformation
I invite you to join me on this exciting and deeply rewarding 21-day yoga journey:
When: Monday, June 11- Sunday, July 1, 2012.
Time: 6:00 AM - 7:30 AM
Where: Kalasrishti - 3000 Bearcat Way, Suite 112, Morrisville, NC 27513 (off Aviation Parkway)
Cost: $125
Please contact me if you would like to participate.
Read all the comments from previous participants here...
---
New Student Discount for June ($30)
Attend unlimited classes during June for only $30 (regularly $65). You may view the current class schedule and the regular fee plans on the schedule page.
---
Swadhyaya (Study of Self)
The word Swadhyaya (स्वाध्याय) is a composite of two words - the prefix 'swa' and 'adhyaya'. The word 'swa' is often used as a reflexive pronoun and, depending upon the context, could mean 'one's own', 'belonging to oneself', 'inherent', 'natural', 'self' etc. The word 'adhyaya' means to study or to learn. So, Swadhyaya is usually translated as 'study of the self' or 'study of the scriptures' or a combination of the two.
---
Utthita-hasta-padangushthasana (Standing hand to toe)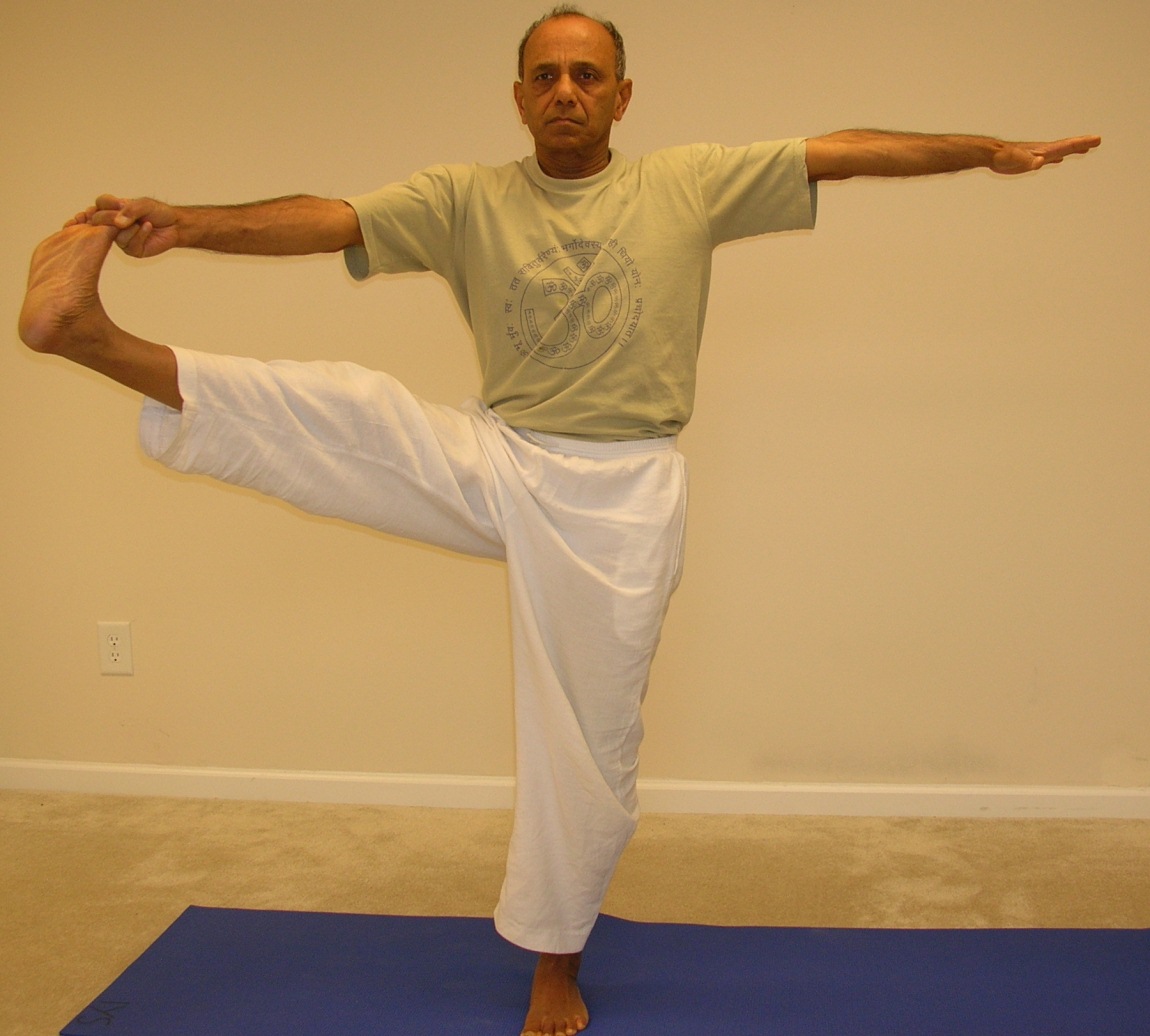 Utthita Hasta Padangushthasana ( उत्थितहस्तपादाङ्गुश्ठासन) (Extended hand to big toe pose) is an intermediate level one-leg balancing pose. Like most other standing balancing poses, it develops strength in the legs, focus, concentration, balance and stability.
---
Yoga in the News
Yoga for Cancer Patients
"a controlled study of yoga therapy in middle-aged, mostly female cancer survivors showed that a four-week, customized gentle yoga plan significantly reduced perceived difficulty with memory"
Yoga for Stroke Rehab
"Researchers looking into the value of adapted yoga for stroke rehabilitation report that after an eight-week program, study participants demonstrated improved balance and flexibility, a stronger and faster gait, and increased strength and endurance."
Yoga helps disabled veteran walk
"When American paratrooper Arthur Boorman returned home injured from the Gulf War, doctors told him he'd never walk unassisted again."
More (with an excellent video) ...
---
Have a question/suggestion?
If you have a yoga-related question, please write to me and I would do my best to provide an answer in a timely manner. I would love to hear your suggestions for future newsletter articles.
back to top