Newsletter June, 2015
In this issue:
---
Twisting Janu-shirshasana and Pashchimottanasana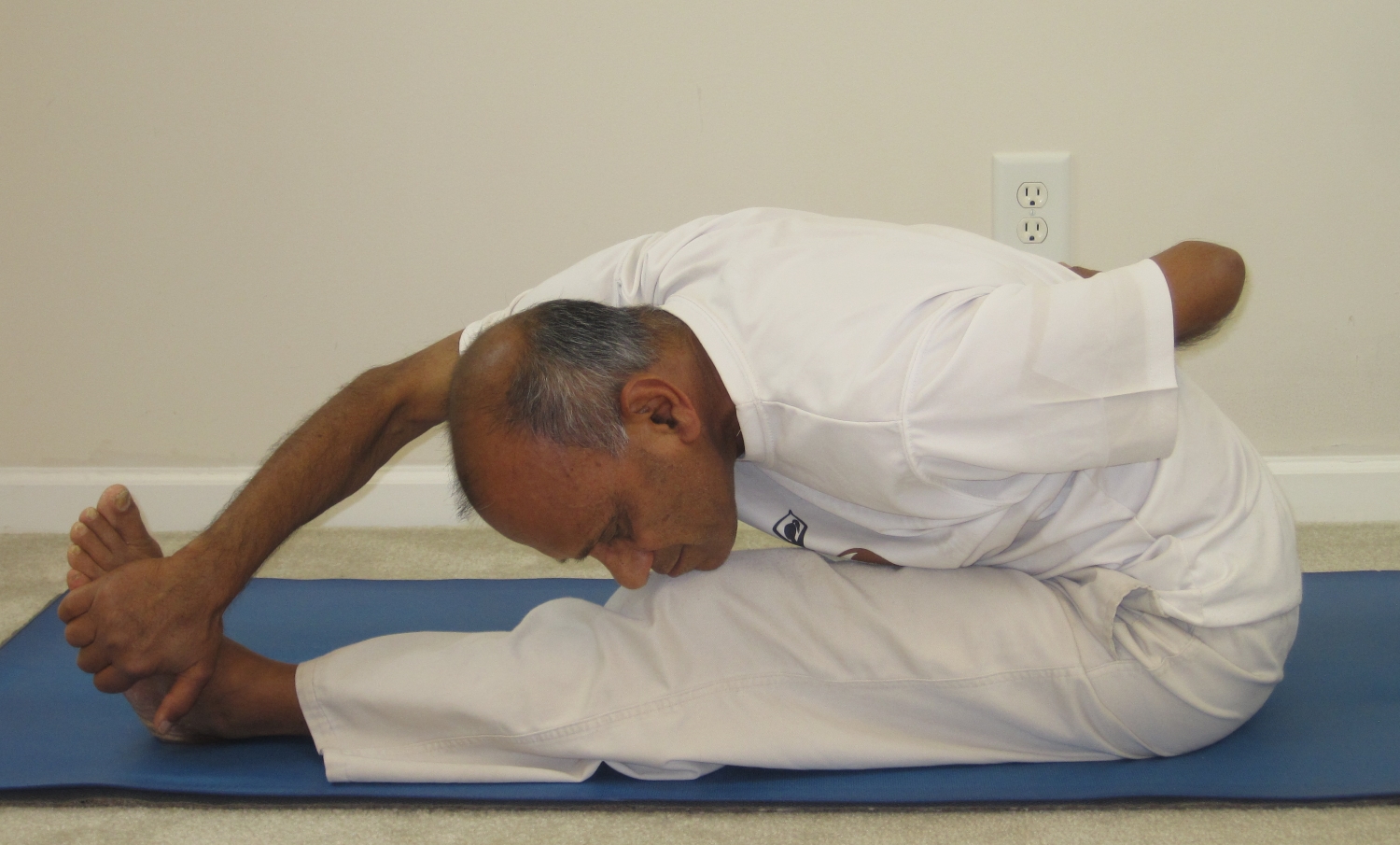 Twisting Head-to-knee pose
Janu-shirshasana (जानु-शीर्षासन) is a composite of two Sanskrit words - Janu means the knee and Shirsha means the head or the forehead. So the literal translation of the pose is head-to-knee pose.
Twisting Janu-shirshasana is a variation on the traditional head-to-knee pose. In this pose, in addition to the forward bending stretch, we also add the element of spinal twist which brings about great relief to any stiffness or mild pain that you might have in your back.
---
Stress-free "Full Catastrophe" living – a summary
[Guest post by Madhu Sheth]
I read the"Full Catastrophe Living" book by Jon Kabat-Zinn (600+ pages) and found out what is the essence of wisdom of body and mind to face stress, pain, and illness. So I came to a simple conclusion - It is all about positive attitude in life. Look and observe inward to find direction and purpose in life.
Various research studies indicate some of the human characteristics that help heal and promote better health and living. So below is a summary from the book for you to read.
---
Upcoming programs
14-day Pranayama/Meditation Intensive, June 15-28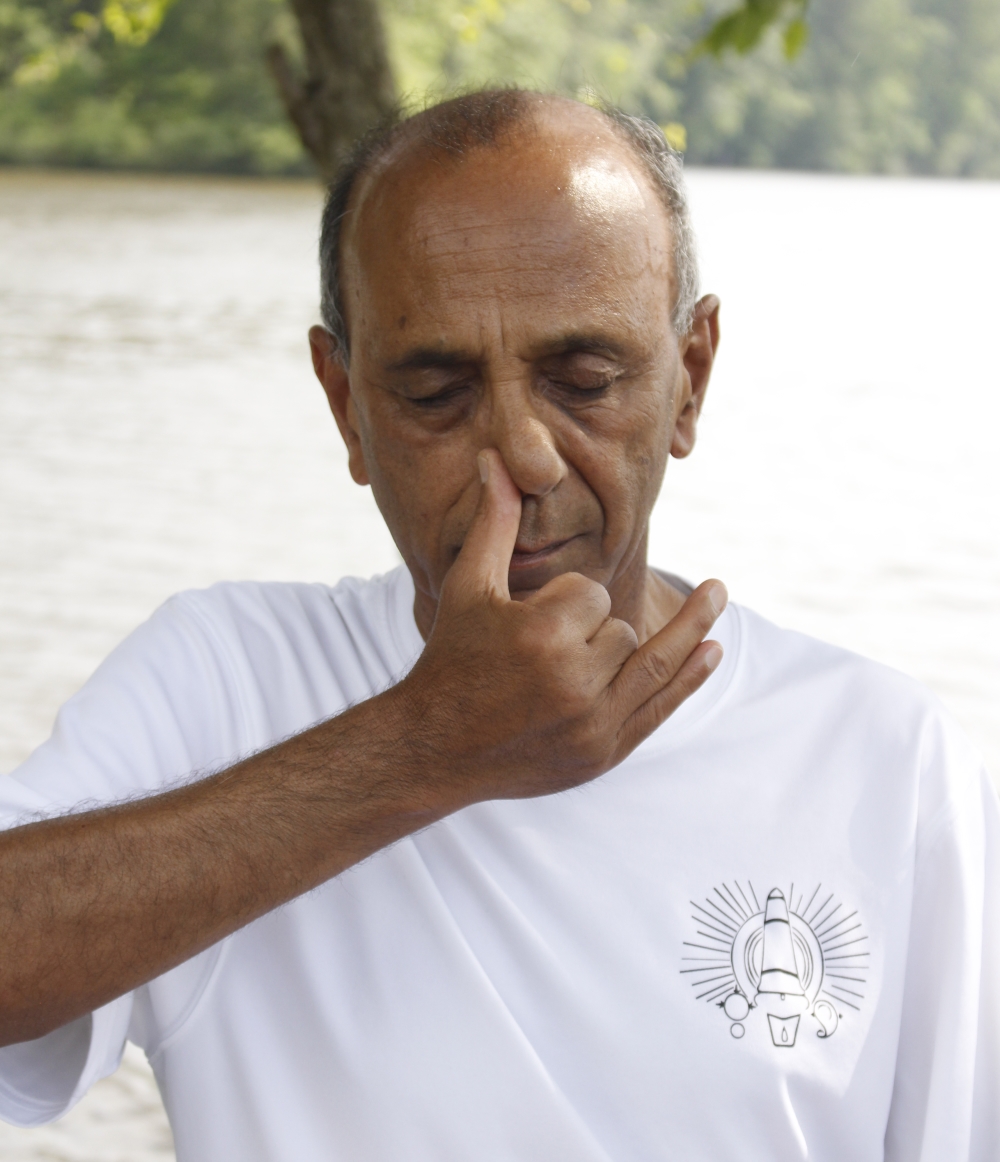 Vishnu Mudra
When: Monday, June 15- Sunday, June 28, 2015
Time: 6:00 - 7:30 AM
Location: 4000 Bearcat Way, Suite 102, Morrisville, NC 27560
Daily Routine: (approximate) - Light stretching (10-15 minutes), Pranayama (30 min), Relaxation (10 min), Yoga philosophy (15 min), Meditation (20 min).
Commitment: A firm commitment to follow this schedule and attend every day
Fee: $90
---
Yoga for Kids (age: 5+ years)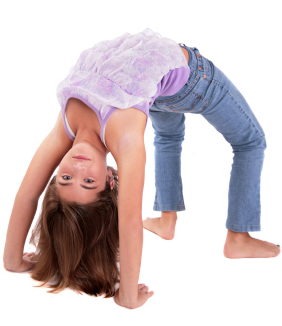 8-week session, starting Wednesday, June 10, 2015
When: Every Wednesday, 6:00-7:00 PM
Location: Integral Yoga Studio, 4000 Bearcat Way, Suite 102, Morrisville, NC 27560
Fee: $80
Instructor: Jagriti Vanam
---
New! Yoga for Kids Summer Special (age: 5+ years)
8-week session, starting Thursday, June 18, 2015
When: Every Thursday, 9:30-10:30 AM
Location: Integral Yoga Studio, 4000 Bearcat Way, Suite 102, Morrisville, NC 27560
Fee: $80
Instructor: Jagriti Vanam
---
New! Yoga for Teens - 8-week session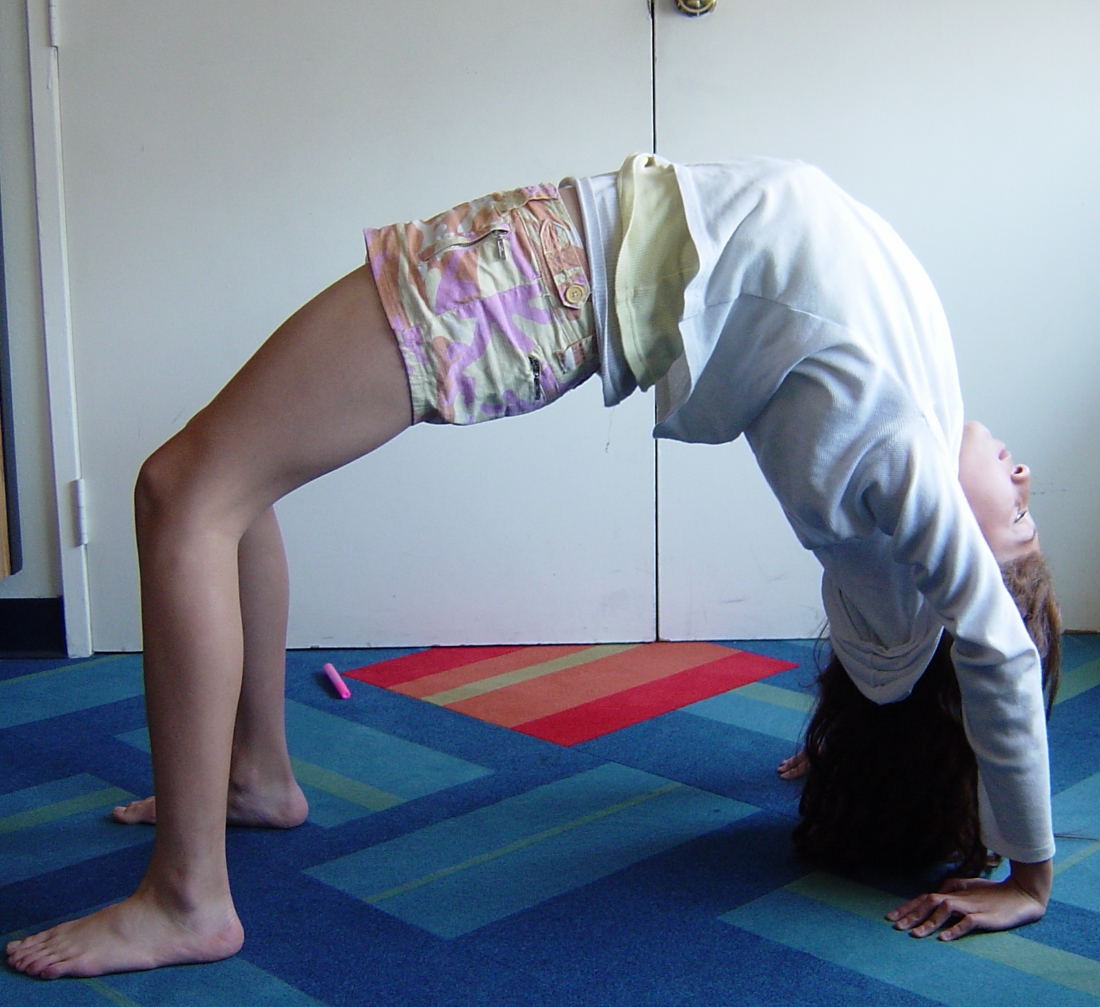 Chakrasana (Wheel Pose)
What: Yoga for Teens (age group: 12-19 years) - 8-week session
When: Wednesdays, 7:15-8:15 PM
Start Date: June 10, 2015
Instructor: Jagriti Vanam (see her full profile here)
Contact: Jagriti (jazzvanam@gmail.com) or Subhash Mittal
Fee: $80 (cash or check, due on the first day of the class)

---

Yoga Philosophy Series - Essential message of Bhagavad Gita

What: Essential message of Bhagavad Gita
When: First Saturday of the month (note the schedule change this month)
Next Session: Saturday, June 20, 2015

TIME: 2:30 - 4:30 PM
LOCATION: Integral Yoga Studio, 4000 Bearcat Way, Suite 102, Morrisville, NC 27560
FEE: by voluntary donation

---

Yoga in the News

99 Reasons to Start Meditating

"... With benefits ranging from physiological to psychological to spiritual, and scientific research to back its validity, there's really no reason anyone shouldn't be meditating at this point. Corporations, professional sports teams, school systems, and celebrities all recognize the value of adopting mindfulness-based lifestyle practices as part of their daily routine."

Yoga and Chronic Pain Have Opposite Effects on Brain Gray Matter

"Chronic pain is known to cause brain anatomy changes and impairments, but yoga can be an important tool for preventing or even reversing the effects of chronic pain on the brain, according to a National Institutes of Health (NIH) official speaking at the American Pain Society's annual meeting today."

Stroke survivors turn to yoga therapy

"Michelle Brusseau was only 16 years old when she had a massive stroke. A blood vessel tore in her brain and took away her ability to walk, talk and hold up her head. That was 12 years ago. Today she walks, talks and holds her head high. And for the past six months, she has been doing yoga therapy as part of her rehabilitation."

YES, YOUR MIND CAN CONTROL YOUR BODY TEMPERATURE

" ... The nuns, the researchers found, were able to increase their core body temperature with this technique--up to almost 101 degrees Fahrenheit."

---

Have a question/suggestion?

If you have a yoga-related question, please write to me and I would do my best to provide an answer in a timely manner. I would love to hear your suggestions for future newsletter articles.

back to top