Newsletter July, 2011
In this issue:
---
21-day Yoga Challenge, July 2011
Due to the overwhelming response for the 21-day challenge that is currently going on (June 13-July 3, 2011), I decided to offer another one in July. The next 21-day challenge is scheduled for July 11-July 31, 2011. Once again, I've had a very positive response and all the spots for this program are now filled. If there is enough interest, I plan to offer the same program again in August. Please let me know if you would like to participate in the 21-day program in August.
Here are the particulars for the July session:
When: Monday, July 11- Sunday, July 31, 2011.
Time: 6:00 AM - 7:30 AM
Where: Kalasrishti - 3000 Bearcat Way, Suite 112, Morrisville, NC 27513 (off Aviation Parkway)
Cost: $125
---
Trikonasana (Triangle Pose)
The word "trikona" is  composed of two words - "tri" meaning 'three' and "kona" meaning 'angle'. So Trikonasana - त्रिकोणासन is normally translated as "Triangle Pose". Trikonasana is one of the basic standing poses and has benefits for the legs, hips and the spine. This is also practiced as a warm up for some of the backward and forward bending as well as spine twisting poses.
---
Yoga for Kids (age group: 5-11 year)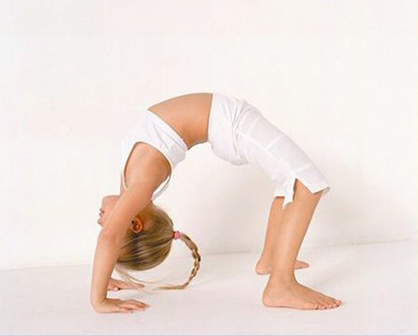 8-week Session
When: Every Saturday 8:15 - 9:15 AM, starting July 9, 2011
Fee: $75
Please contact me if you would like to participate.
---
Yoga in the News
Yoga for cancer patients at Beth Israel Hospital, New York
On Wednesday, Dr. Shulkin, who had never done yoga before, joined Ms. Karan and about 60 Beth Israel employees on the floor of her late husband's West Village art studio for an hour of yoga poses, finishing off with "om" and the recorded sound of bells.
What Babies Can Teach Us About Being Happy
According to Gopnik, this reduced activity in a baby's prefrontal cortex is also what blesses infants with the ability to stay open to improvising new and unusual responses to situations --often to their parents' delight.
So how can you tap into some of this terrific expanded consciousness and think like a baby? The answer: Start meditating!
The Yoga of Cooking and Eating
...Cooking, if done with the right consciousness, can be a kind of yoga practice. I'm not referring to the yoga practice where you try to turn yourself into a pretzel. I am sticking to the original meaning of the term, which arises from the Sanskrit root yuj, which means to harness or bind back. Yoga means you are trying to reconnect with the divine.
Study Compares Health Benefits Of Yoga And Exercise
"Interestingly, the two groups - yoga practitioners and habitual exercisers - were similar with regard to self-reported symptoms of anxiety and depression. However, the yoga practitioners reported lower prevalence of joint pain and headaches than those who engaged in cardiovascular exercise and weight training. They also had higher scores for mindfulness and coping skills, and lower scores for perceived stress, compared with the exercise group."
---
Have a question/suggestion?
If you have a yoga-related question, please write to me and I would do my best to provide an answer in a timely manner. I would love to hear your suggestions for future newsletter articles.
back to top