Newsletter July, 2013
In this issue:
---
Parivritta Trikonasana (Revolving Triangle Pose)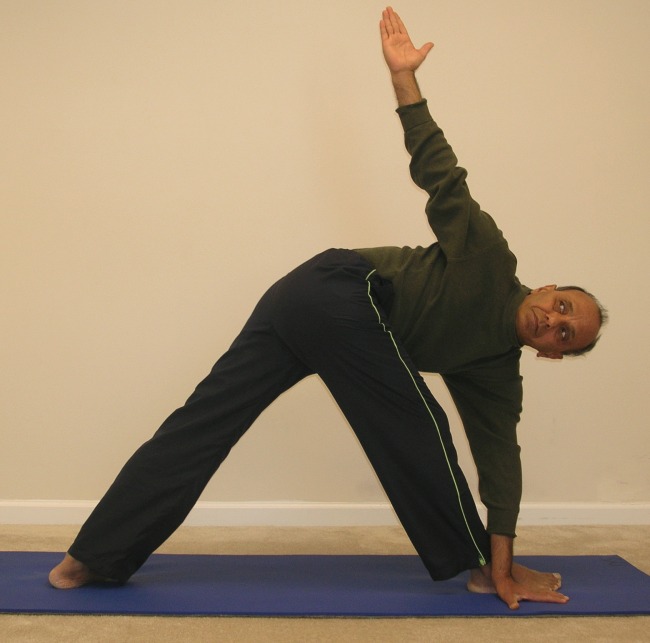 Parivritta Trikonasana (Revolving Triangle Pose) - परिवृत्तत्रिकोणासन - is an intermediate level pose which can be considered a standing twist and provides a great stretch for the hips, the hamstrings, spine, shoulders and the legs. It also provides some challenge in maintaining balance while in the pose.
When you see a picture of this pose, it may look deceptively simple. However, you realize some of the challenges involved in getting into the pose once you start working with the pose.
---
The Three Gunas (Sattva, Rajas, Tamas)
Ever wonder why we seem to have mood shifts from moment to moment? You may be sitting in a very peaceful state of mind, maybe reading a nice book, and suddenly the thought of some event from the past can throw you into an agitated state of mind. There is constant change going on in our minds. All such random fluctuations of the mind are attributed to the play of the three gunas. The gunas represent a central theme in the various philosophies contained in the ancient Hindu scriptures, like Samkhya, Patanjanli's Yoga Sutras, Bhagavad Gita, and the Upanishads.
---
Yoga in the News
Is Yoga a religion? - Yoga on trial
The case is believed to be the first of its kind to test whether yoga is a secular exercise or a form of Hindu-based religion that's inappropriate for public schools.
The ruling could have far-reaching implications.
Yoga for Depression and Other Major Psychiatric Disorders
" ... The researchers found evidence supporting a yoga benefit in the treatment of depression, schizophrenia, attention deficit hyperactivity disorder, and sleep complaints."
Times Square hosts summer solstice yoga event
More than 8,000 yogis found tranquility and transcendence in the midst of the world's most commercial, frenetic and urban places, Times Square, on June 21, 2013.
Inspiring Commencement Speech by Nipun Mehta
Inspirational speech by Nipun Mehta urging the graduates from Harker's class of 2013 to 'give, receive and dance', to stop being the 'me, me, me' generation, to embrace the opportunities and challenges in today's world.
---
Have a question/suggestion?
If you have a yoga-related question, please write to me and I would do my best to provide an answer in a timely manner. I would love to hear your suggestions for future newsletter articles.
back to top