Newsletter September, 2011
In this issue:
---
Why study Yoga Sutras of Patanjali?
Until I went for my yoga teacher training at the Swami Satchidananda Ashram in Yogaville, VA in 1996, I had never heard of Yoga Sutras of Patanjali. Before that my yoga practice consisted of about a 40 minute session of a few asanas which I practiced, on an average, 3-4 times a week. The only other "yoga" training that I had prior to that was introduction to Transcendental Meditation ™ for which I had gone to the Mahesh Yogi ashram in Rishikesh in late sixties.
---
Ardha-chandrasana (Half Moon Pose)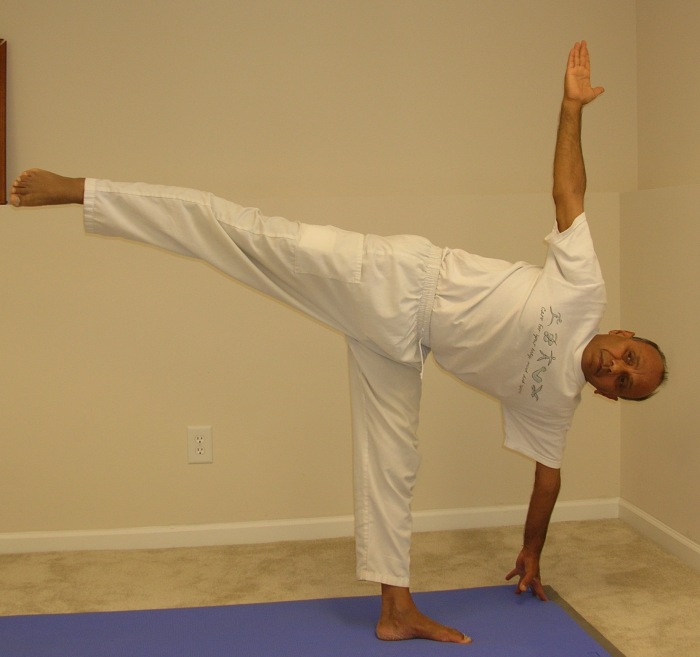 The Ardha-chandrasana (अर्धचन्द्रासन) (Half Moon pose) is one of the intermediate level one-leg balancing poses. It is an excellent pose for developing strength in the legs and especially for stretching the hamstring and the gluteal muscles.
---
Yoga for Kids (age group: 5-11 year)
New 8-week Session, starting September 10, 2011
When: Every Saturday 8:15 - 9:15 AM
Note: There will be no class Oct 8, 15 and 22 as I will be in India
Fee: $75
---
12-day Pranayama/Meditation Intensive
I've had a very positive response to the 12-day program and all the spots are now filled. Please let me know if you would like to participate in the 12-day pranayama and 21-day yoga challenge programs that I plan to offer in future.
When: Wednesday, September 7- Sunday, September 18, 2011.
Time: 6:00 AM - 7:30 AM
Where: Kalasrishti - 3000 Bearcat Way, Suite 112, Morrisville, NC 27513 (off Aviation Parkway)
Fee: $75
Visit here for more details ...
---
Yoga in the News
Yoga for pain and fibromyalgia
An eight-week yoga intervention is associated with improvements in pain, psychological functioning and mindfulness, and changes in cortisol levels in women with fibromyalgia.
Yoga Found to Lower Inflammation
In the study, women who had practiced yoga regularly for at least two years were found to have lower levels of inflammation in their bodies than did women who only recently took up the activity.
Yoga Practice Reduces Fear of Falling In Seniors
After a 12-week period of time, with two classes per week that was taught by a professional yoga therapist, the study participants reported:
- a reduced fear of falling,
- increased lower body flexibility and
- a reduction in their leisure constraints.
---
Have a question/suggestion?
If you have a yoga-related question, please write to me and I would do my best to provide an answer in a timely manner. I would love to hear your suggestions for future newsletter articles.
back to top