Newsletter December, 2015
In this issue:
---
Excellent stretch for shoulders using a strap (video)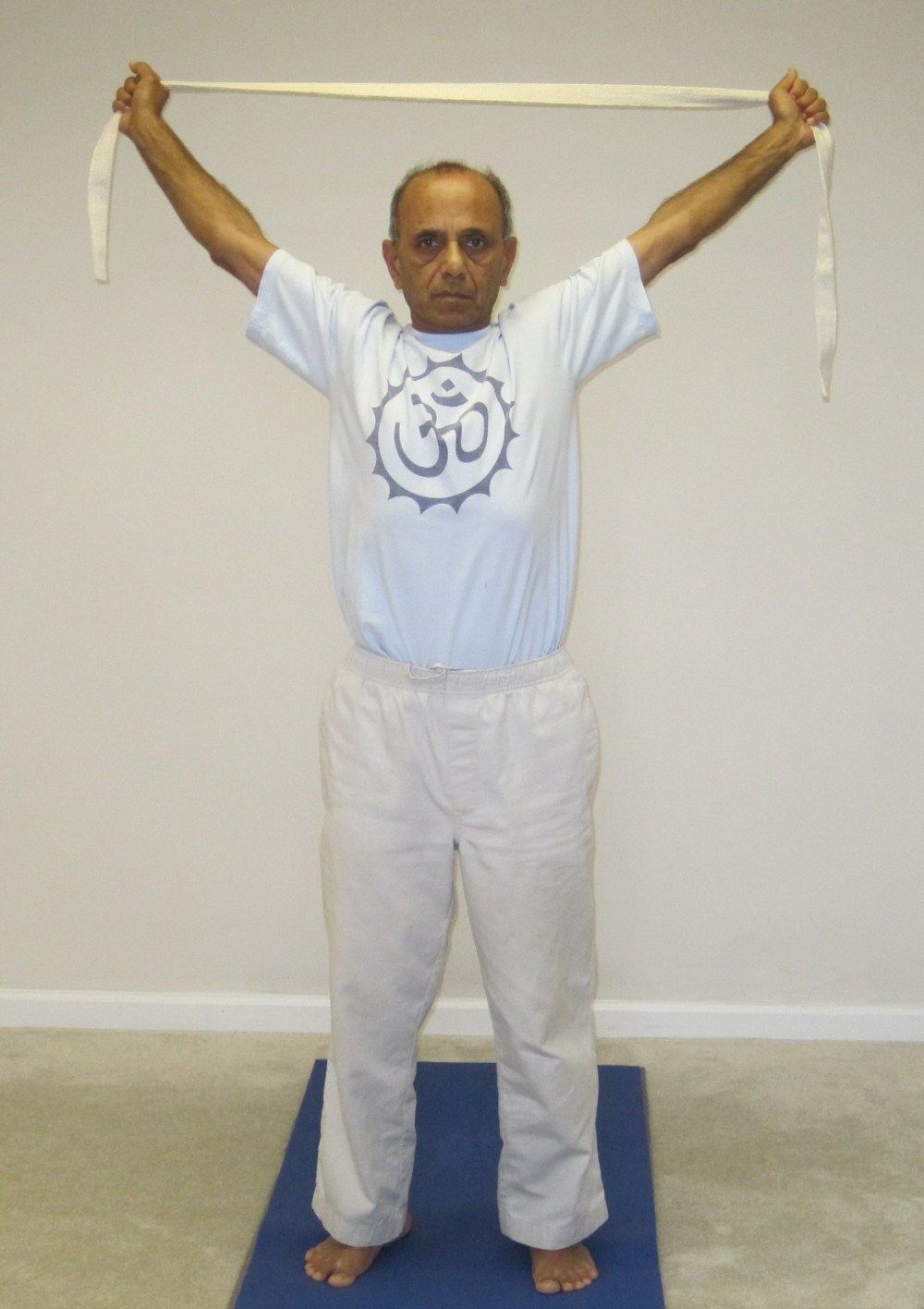 In a previous post, I described a few stretches to help release tension from the neck muscles. As we know, the neck and shoulders are closely tied together through the nervous system as nerves from the neck pass through the shoulders and down the arms. As such, stretches for the neck and shoulders are usually practiced together so we can relax both the neck and the shoulders together.
I hope you will enjoy practicing along with the video demonstration in the blog post.
---
Pawana-muktasana (Wind Releasing Pose)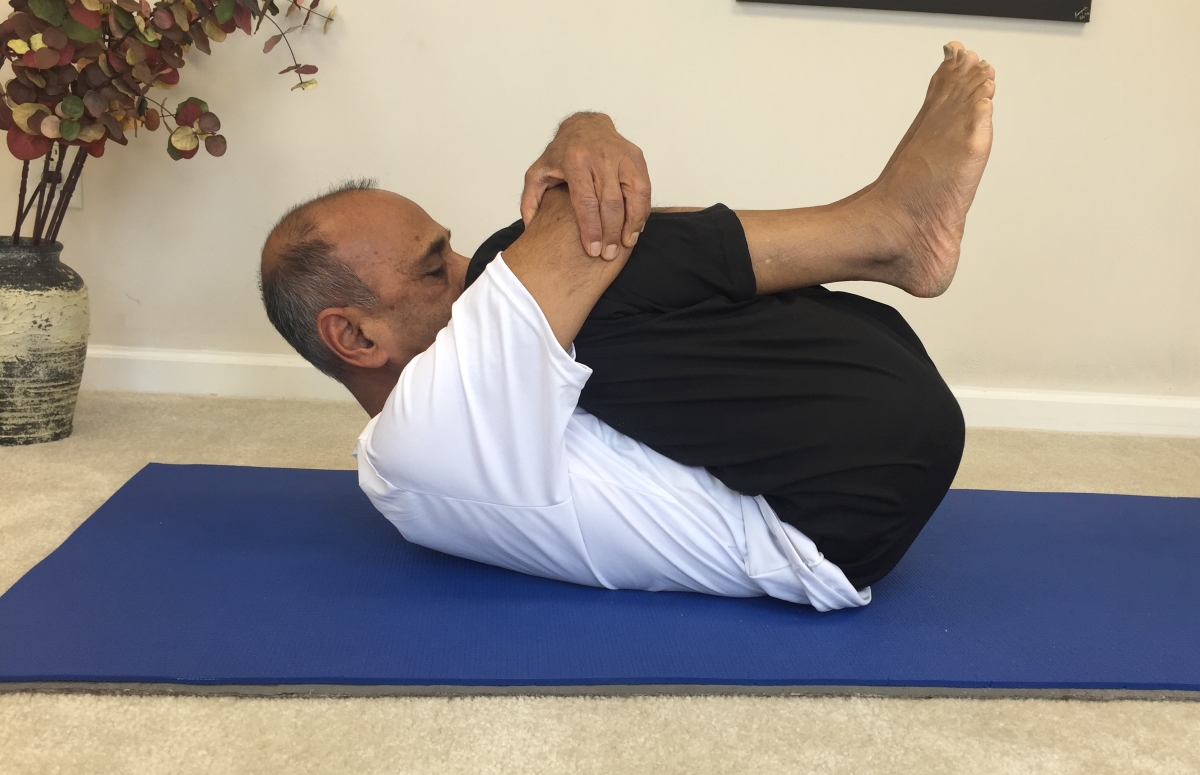 Pawana Muktasana
Pawana-muktasana (PMA) - पवनमुक्तासन - is a simple set of asanas, easy to practice, and yet has many far-reaching benefits. These asanas are great for eliminating excess gases from the digestive tract, strengthening the core muscles, massaging the internal organs and giving relief to the lower back.
The name of the asana is a composite of two words - pawana means the wind or air and mukta means liberated or released. So, the common English translation for the pose is "Wind releasing pose".
I hope you will enjoying practicing with me with this video sequence in the blog post.
---
Supta-Padangushthasana (Reclining hand-to-toe Pose)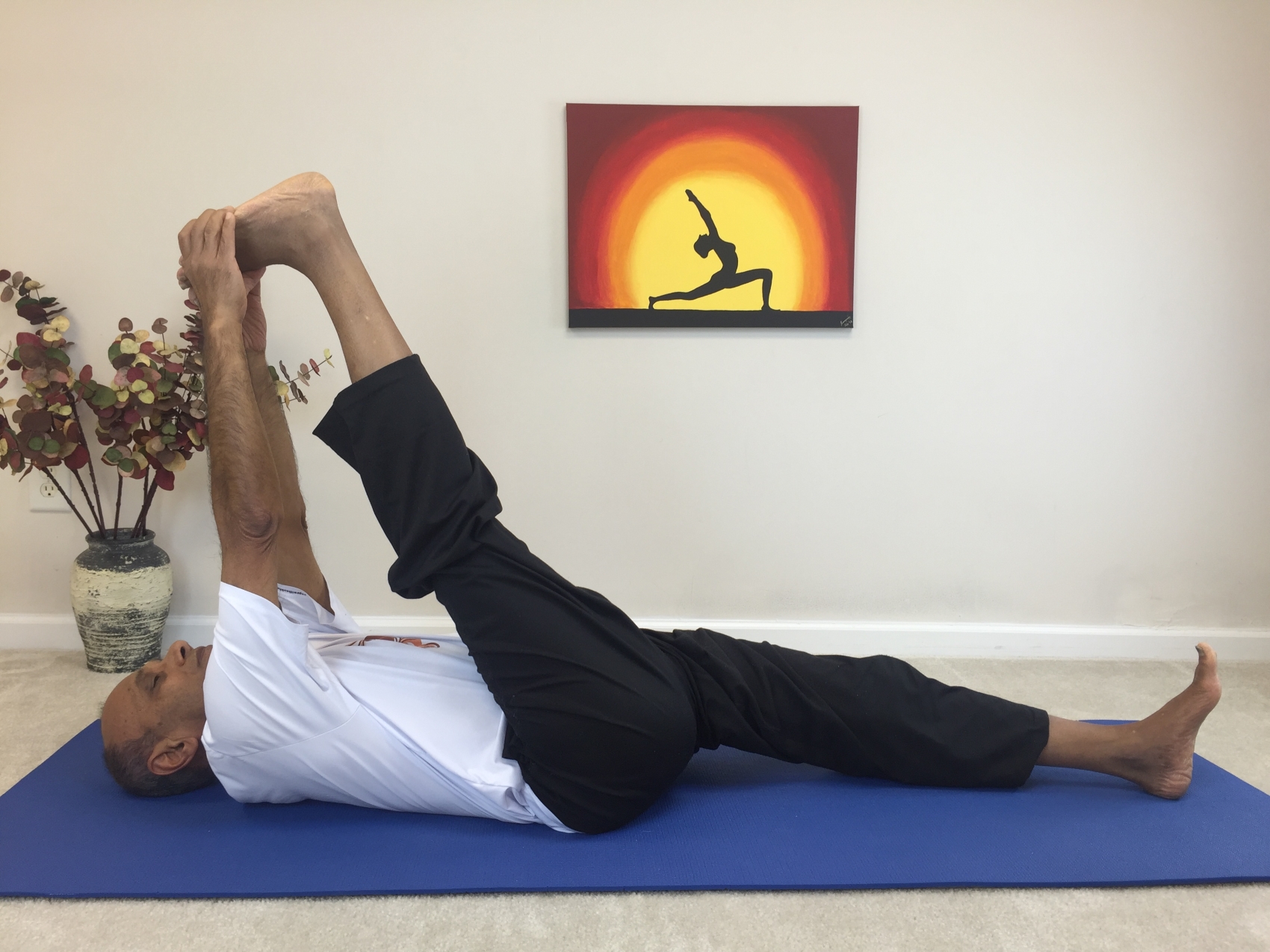 Reclining hand-toe Pose
Supta Padangushthasana - सुप्त-पादाङ्गुष्ठासन - (Reclining hand-to-big toe Pose) is an excellent pose to stretch the hamstrings, hips, back of the knees, calf muscles, and ankles. It is also a great stretch for bringing relief for lower back pain.
I hope you will enjoy practicing with me using the video instructions in the blog post.
---
Upcoming Programs
12-day Meditation Intensive, Dec 9-20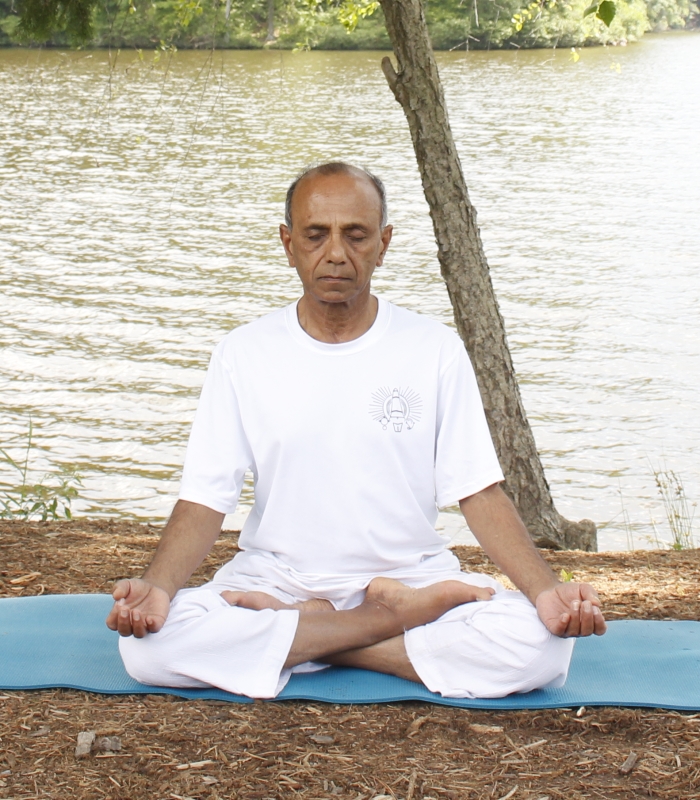 Padmasana (Lotus Pose)
I am pleased to announce the next 12-day Meditation Intensive. In this program, I plan to discuss the basic concepts of meditation and also practice several of the meditation techniques. Most of the information that I will be sharing is based on the concepts discussed in Patanjali's Yoga Sutras and related ancient texts.
No prior pranayama or meditation experience is required.
Please visit here for more details...
---
Yoga Philosophy Series - intro to Yoga Sutras of Patanjali
Understanding the Mind to eliminate Stress
---
FREE Gentle Yoga classes with Jyoti - Dec 3 and Dec 17
FREE Gentle Yoga with Jyoti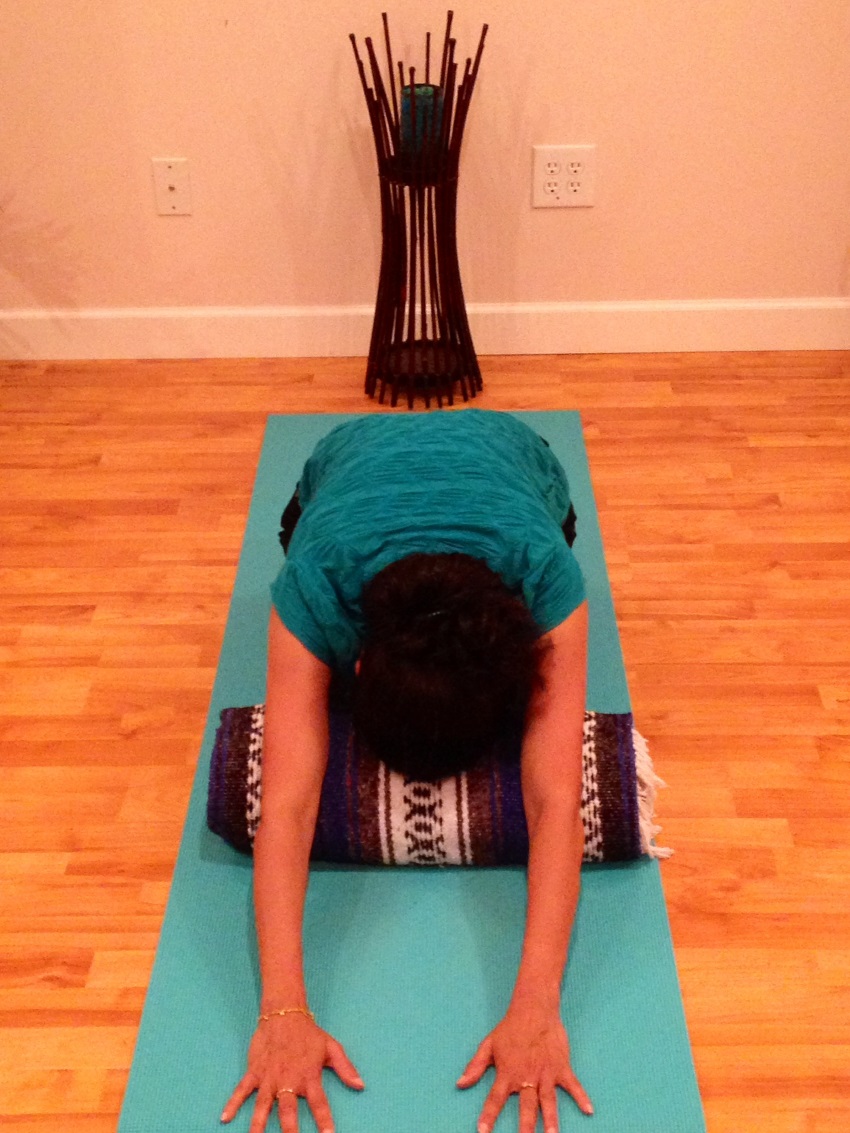 Gentle Yoga
---
Yoga in the News
Mind of the Meditator
A comparison of the brain scans of meditators with tens of
thousands of hours of practice with those of neophytes and nonmeditators has started to explain why this set of techniques for training the mind holds great potential for supplying cognitive and emotional benefits. As suggested by the growing compendium of research, meditation may be effective in treating depression and chronic pain and in cultivating a sense of overall well-being.
What Does Mindfulness Meditation Do to Your Brain?
More people than ever are doing some form of this stress-busting meditation, and researchers are discovering it has some quite extraordinary effects on the brains of those who do it regularly.
University yoga class canceled because of 'oppression, cultural genocide'
"at one Canadian university, a yoga class designed to include disabled students has been canceled after concerns the practice was taken from a culture that "experienced oppression, cultural genocide and diasporas due to colonialism and western supremacy," according to the group that once sponsored it."
Americans who practice Yoga report better wellness, health behaviors
"People who practiced yoga or took natural products (dietary supplements other than vitamins and minerals) were more likely to do so for wellness reasons than to treat a specific health condition, according to analysis of data from the 2012 National Health Interview Survey (NHIS). "
---
Have a question/suggestion?
If you have a yoga-related question, please write to me and I would do my best to provide an answer in a timely manner. I would love to hear your suggestions for future newsletter articles.
back to top