Newsletter January, 2015
Wishing you a year filled with peace, harmony and fulfilment!
In this issue:
---
Asanas for quads (part 2)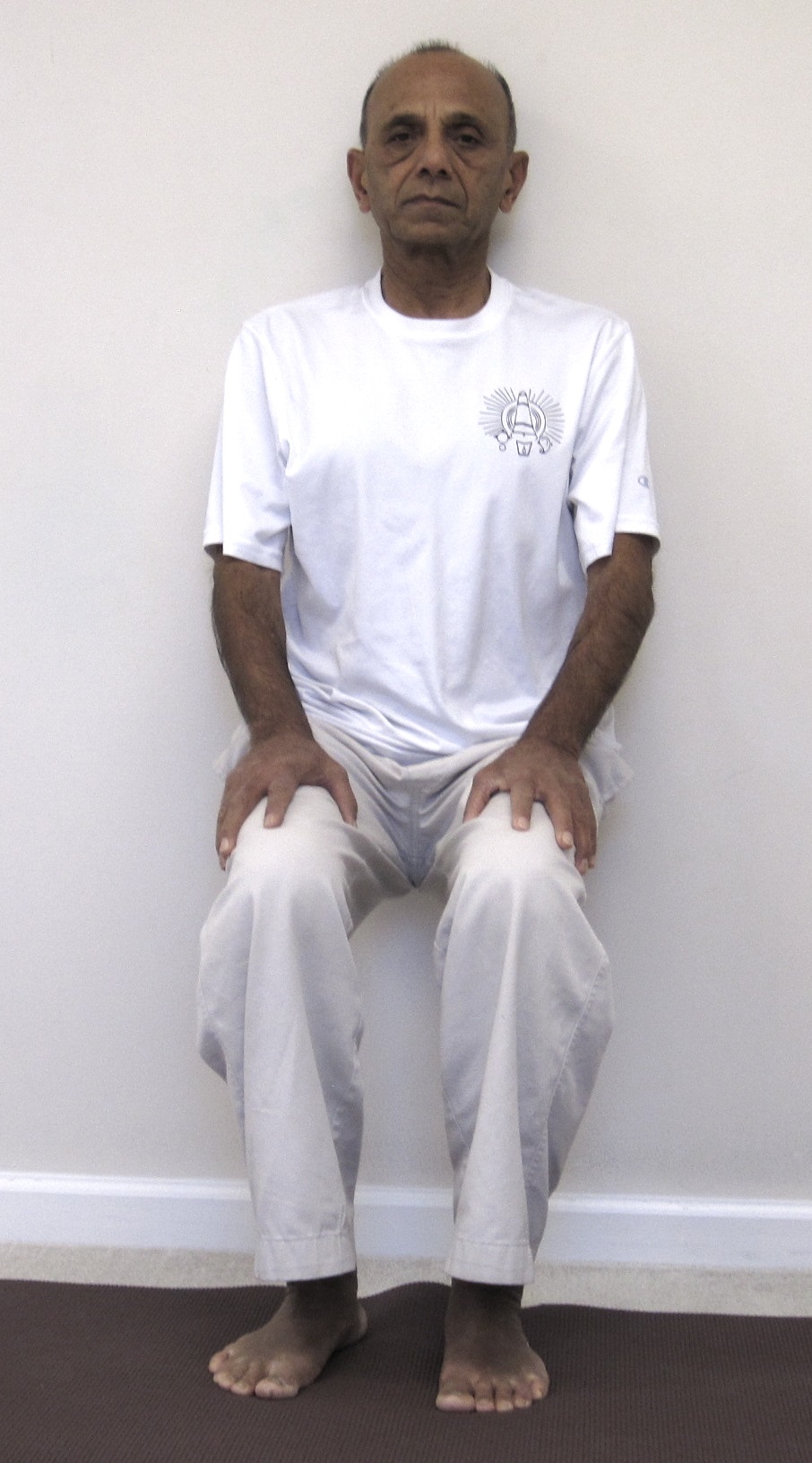 Virtual chair against wall
This post (part 2) is a continuation on the theme of presenting asanas that are very effective in building strength and flexibility in the quads. Please visit the previous post (part 1) for more asanas.
Quads (short for quadriceps) are the group of four muscles in the top part of the thighs. Quads, in combination with the hamstrings (back of the thigh) provide an excellent support structure both for the knees as well as the spine. Strength and flexibility of the quads can usually translate to healthy knees and a strong spinal column.
---
Ujjayi Pranayama
In a previous article, I wrote about the breathing technique called the Ujjayi breath. In this breath, while breathing in and out through the nose, we constrict the passage of air at the base of the throat area, the glottis, which makes a slight hissing, ocean wave like sound. In normal breathing the friction of the air happens at the tip of the nostrils. In Ujjayi, we allow the friction to happen at the glottis area and not in the nostrils. Because of the constriction of the passage of air, the Ujjayi breath allows us to prolong the duration of each breath. Moreover, the gentle hissing sound has a very calming effect on the nerves and the mind.
---
Yoga for chronic pain, naturally
(Guest post by freelance contributor Anne Healey)
Chronic pain affects 100 million of us in the United States, which can be debilitating, impacting on everything from your sleep to your employment. While you may leave a visit to your doctor's office with a prescription for stronger painkillers, if you are keen to explore more natural options for pain relief, research shows that yoga is an effective way to alleviate discomfort. While the benefit of yoga for easing back pain is fairly well-known, you may not realize that it can help with a range of other painful conditions. If you suffer from arthritis, migraines, fibromyalgia, peripheral neuropathy or multiple sclerosis, here we take a look at how making yoga part of your regular routine can ease your discomfort.
---
Yoga FAQ #2
How often should I practice yoga?
The simple answer is - Every Day! Yes, to get the full benefit of your yoga practice, it is important to establish an ongoing daily practice. Remember the definition of "practice (abhyasa)" as per Patanjali in his Yoga Sutras, "Practice becomes firmly grounded when well attended to for a long time, without break and in all earnestness." (Sutra 1.14).
As you know, most of my classes are 1.5 hours in duration. However, for your personal home practice, it is not necessary that you allocate a full 1.5 hour session. Even if you can build a regular practice for, let us say, half an hour each day, it will go a long way in filling your day with energy, vitality and keep your mind calm and focused. Depending upon how much time you can allocate for your yoga practice, I'd be happy to recommend a routine that you can fit into that schedule.
---
Upcoming events
21-day yoga challenge, Jan 5-25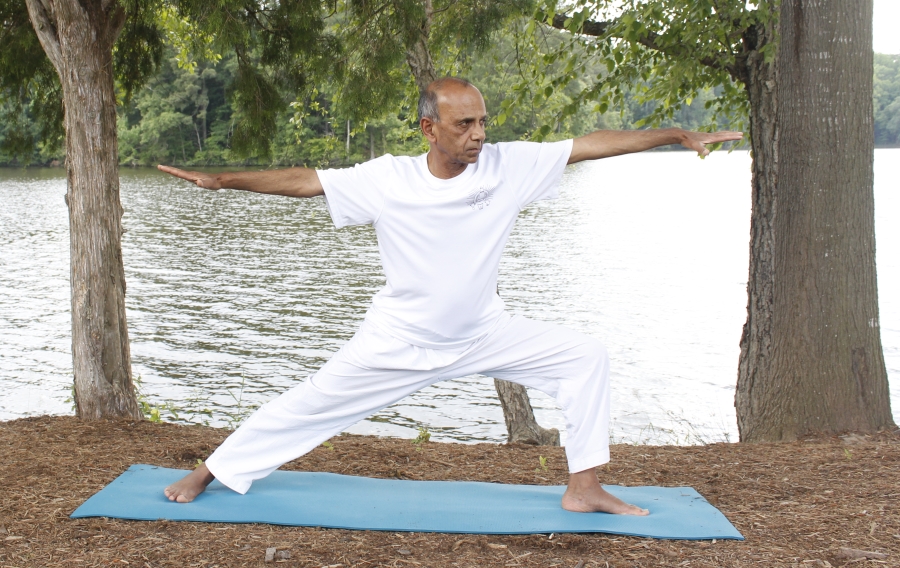 Virabhadrasana (Warrior2)
[download the flier here]
When: Monday, January 5 - Sunday, January 25, 2015
Time: 6:00 - 7:30 AM
Where: 4000 Bear Cat Way, Suite 102, Morrisville, NC 27560
Cost: $125
Commitment:

A firm commitment to complete the program without missing a day
At the end of the program, continue the same practice at home for another 21 days to make it a life-long habit

---

Yoga Sutra Workshop, Jan 3

Understanding the Mind to eliminate Stress

What: An Introduction to the Yoga Sutras of Patanjali
Next Session: Saturday, January 3, 2015
Focus: Eight Limbs of Yoga (Ashtanga Yoga)

TIME: 2:30 - 4:30 PM
LOCATION: Integral Yoga Studio, 4000 Bearcat Way, Suite 104, Morrisville, NC 27560
FEE: by voluntary donation

---

Free Yoga Class, Jan 1

Usher in the New Year on a healthy note. Give yourself the gift of good health and attend a FREE yoga class.

When: Thursday, January 1, 2015

Time: 10:00 AM - 12:00 Noon

Location: 4000 Bearcat Way, Suite 102, Morrisville, NC 27560

cost: FREE!

Please contact me to register.

---

Meditation Sundays with Joanne Healey

(4-week program)

When: Sundays - January 4, 11, 18 and 25

Time: 11:15 AM - 12:15 PM

Where: Integral Yoga Studio, 4000 Bearcat Way #102, Morrisville, NC 27560 (off Aviation Pkwy, by Hwy 54)

Fee: Voluntary donation

Instructor: Joanne Healey, M.S. Counseling, Angel Psychic Reader, Life and Wellness Counselor

Joanne Healey has studied and taught Meditation, Energy Medicine and Alighnment for over 20 years and has taught powerful techniques to many for improving health and vitality and setting your energies for a positive future.

To Register: Call Joanne at 941-773-7220 or send her an email at hopeurdancing@yahoo.com

---

Yoga in the News

Yoga may be as heart-healthy as aerobics

"Based on 37 clinical trials, researchers found that doing yoga lowered blood pressure, cholesterol, heart rate and other cardiovascular risk factors in increments comparable to those seen with aerobic exercise."

UN adopts June 21 as World Yoga Day

In a proud moment for India, the United Nations has adopted June 21 as World Yoga Day on Thursday night after Prime Minister Narendra Modi had urged the world community to celebrate Indian yoga at the international level in his speech at the United Nations General Assembly in September.

Eight weeks to a better brain

"Although the practice of meditation is associated with a sense of peacefulness and physical relaxation, practitioners have long claimed that meditation also provides cognitive and psychological benefits that persist throughout the day,"

---

Have a question/suggestion?

If you have a yoga-related question, please write to me and I would do my best to provide an answer in a timely manner. I would love to hear your suggestions for future newsletter articles.

back to top