Newsletter April, 2017
In this issue:
---
My yoga practice – post shoulder surgery
Standing wide-legged bend
After my shoulder surgery on January 6, I met with my doctor four weeks after the surgery for my first post-op follow-up. At that time she told me that due to the nature of the surgery which involved the use of a human graft, the recovery is going to be quite slow. It could take up to a whole year before I gain full range of motion and strength. Of course, since using human graft is a relatively new procedure, not much data is available from actual case studies to make a good, realistic assessment of the recovery time. It is not even clear what "full recovery" means. In my doctor's estimate I may regain full range of motion; however, I may gain only about 80-85% of my previous strength in my arms and shoulders. These follow-ups will continue every four weeks for the next few months.
---
Upavishta-konasana (Seated wide-legged forward bend)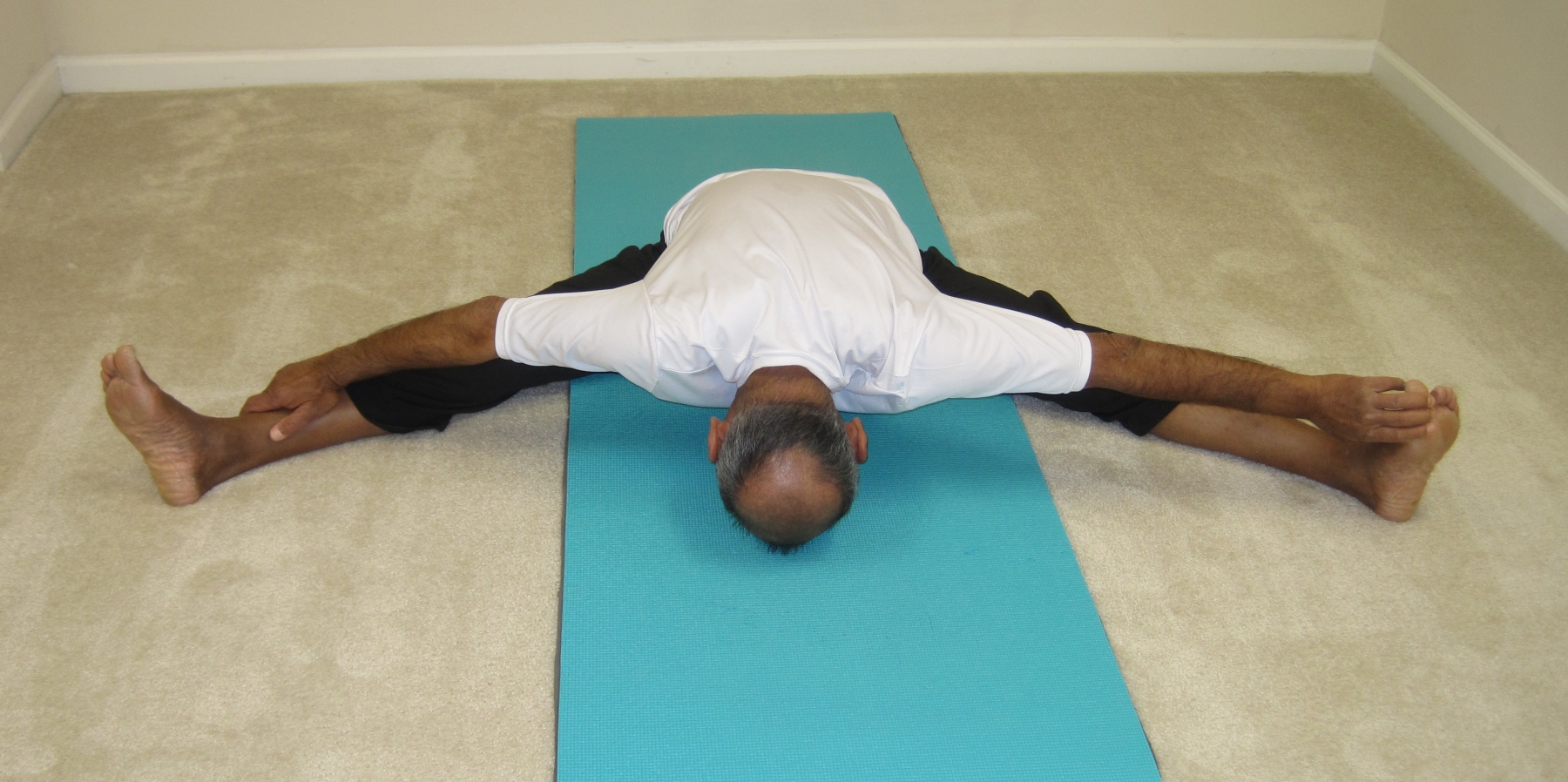 Upavishta-konasana
Upavishta Konasana - उपविष्ट-कोणासन - [audio:http://www.integralyogastudio.com/sounds/upavishta-konasana.mp3] (Seated wide-legged forward bend) is an intermediate level pose and helps a great deal in stretching the inner thigh and inner knee muscles and the entire spine. It also brings about a sense of calm to the mind that helps relieve stress and anxiety. The word upavishta means "seated" and kona means "angle".
---
Upcoming Programs
14-day Meditation Immersion, May 1-14, 2017
What: 14-day Meditation Intensive
When: Monday, May 1 - Sunday, May 14, 2017
Time: 6:00 – 7:30 AM
Location: 4000 Bearcat Way, Suite 102, Morrisville, NC 27560
Daily Routine: Light stretching (10-15 minutes), Pranayama (15 min), Relaxation (15 min), Meditation - discussion and practice (45 min)
Commitment: A firm commitment to follow this schedule and attend every day
Fee: $90
To register: fill out the registration form, providing information in all the fields, and submit it online
---
Understanding the Mind to eliminate Stress
What: An Introduction to the Yoga Sutras of Patanjali
When: Third Saturday of the month
Next Session: Saturday, April 15, 2017

TIME: 2:00 - 4:00 PM
LOCATION: 4000 Bearcat Way, Suite 104, Morrisville, NC 27560
FEE: by voluntary donation
To register: please fill out the registration form (if you have filled the form recently, send me an email to register)
---
Sunday morning yoga with Jim Ray
You are invited to join my friend, Jim Ray, on Sunday mornings from 10:30 AM until 12 PM for free/donation-based community yoga practice at Cary's Fortnight Brewing Company. Bring your own mat.
---
podcast channel
As you may be aware, I have been offering monthly workshops wherein I discuss various aspects of yoga philosophy. The main focus in these workshops is to discuss the Yoga Sutras of Patanjali in some depth. In addition, from time to time, I also discuss concepts from the Bhagavad Gita, Upanishads and other related ancient scriptures. In order to preserve these talks for future reference, I have been making an audio recording of these discussions and sharing them with the participants. These audio recordings are now available on the podcast channel on my blog. You are welcome to download these audio recordings for your use. In addition, you can listen to these podcasts as well as subscribe to them on itunes as well.
---
youtube channel
As you would have noticed from many of the recent posts on my blog, I have been adding short videos of many of the commonly practiced asana and pranayama sequences. I strongly urge you to subscribe to my youtube channel and visit the channel frequently to get instructions for your own asana and pranayama practices. Please share the link to the channel with your friends who might benefit from these detailed video instructions.
I would love to hear your feedback and, of course, would welcome suggestions for future videos that you would like to see on the channel.
---
Yoga in the News
Yoga Helps Depression
Evidence keeps stacking up that yoga is a boon for both physical and mental health conditions. Now, a small new study from Boston University finds that taking yoga classes twice a week may help ease depression, thanks in part to deep breathing.
Yoga is philosophy in physical form
Yoga class undoubtedly improves a person's flexibility and serenity. But Lisa Miracchi, a philosophy professor at University of Pennsylvania who is teaching a seminar called "Yoga and Philosophy," says that the poses can also enhance your reasoning, behavior, and relationships.
---
Have a question/suggestion?
If you have a yoga-related question, please write to me and I would do my best to provide an answer in a timely manner. I would love to hear your suggestions for future newsletter articles.
back to top