Newsletter July, 2012
In this issue:
---
Pranayama/Meditation Intensive, July 11-22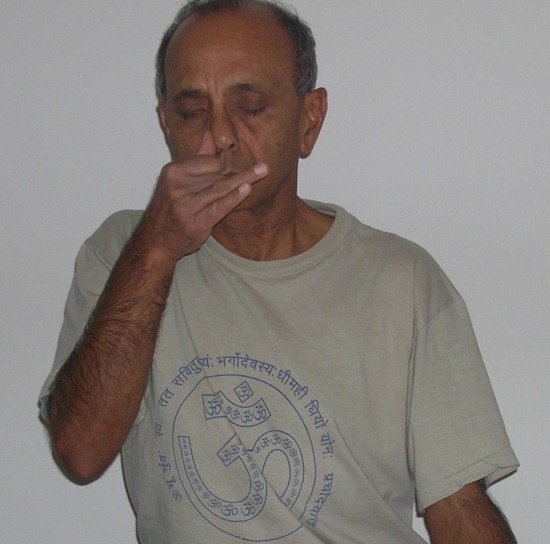 When: Wednesday, July 11- Sunday, July 22, 2012
Time: 6:00 – 7:30 AM
Location: Kalasrishti, 3000 Bearcat Way, Suite 112, Morrisville, NC 27560
Daily Routine: Light stretching (10-15 minutes), Pranayama (30 min), Relaxation (10 min), Yoga philosophy (15 min), Meditation (20 min).
Commitment: A firm commitment to follow this schedule and attend every day
Fee: $75
Please visit here for more details...
---
Delicious Healthy Recipes
Here are two recipes that we enjoyed as part of the amazing breakfast experience at the end of the recently concluded 21-day yoga challenge program:
Healthy Fruit Smoothie (by Gillian Horsham)
Energy Balls (by Jane Hunter-Ladd)
---
Ishvara Pranidhana (Surrender to God)
Ishvara Pranidhana - ईश्वर प्रणिधान - is the last of the five Niyamas given by Patanjali in the Yoga Sutras. The word "pranidhana" means total surrender or letting go of the individual ego in favor of a higher Self. The word Ishwara has been defined by Patanjali in sutra 1.24 as " Isvara is the supreme Purusha, unaffected by any afflictions, actions, fruits of actions or by any inner impressions of desires." When loosely translated, Ishwara means God. However, we need to constantly keep Patanjali's definition in mind while we are discussing the sutras related to Ishwara Pranidhana.
---
Let's connect over Social Media
In an effort to connect and interact with my yoga students, colleagues and readers of my website, yoga blog and newsletters, I am planning to get more involved in social media networks. I encourage you to connect with me over the following networks where I currently have accounts:
---
Yoga in the News
Effects of Yoga Versus Walking on Mood, Anxiety
The 12-week yoga intervention was associated with greater improvements in mood and anxiety than a metabolically matched walking exercise.
Yoga Shows Psychological Benefits for High-School Students
Yoga for Heart
It was evaluated from this study that workplace yoga practice has positive effects on cardiovascular system. It helps in reducing the worksite stress and reduces the risk of cardiovascular and metabolic disorders.
Inspiring Graduation Speech To Students At The University Of Pennsylvania
---
Have a question/suggestion?
If you have a yoga-related question, please write to me and I would do my best to provide an answer in a timely manner. I would love to hear your suggestions for future newsletter articles.
back to top