Newsletter September, 2016
In this issue:
---
Surya Namaskar (Sun Salutation) with mantra recitation (video)
Sun Salutation
In Hindu mythology, the sun god is worshipped as a symbol of health and immortal life. It is also revered as the source of life and energy. The Rig Veda declares that "Surya is the Soul, both of the moving and unmoving beings". The Sun Salutation (Surya Namaskara – सूर्य नमस्कार) originated as a series of prostrations to the sun. Traditionally, it is performed at dawn, facing the rising sun.
From a historical perspective, Surya Namaskara (Sun Salutation) is not listed as one of the yoga practices in any of the traditional, ancient yoga texts. Two of the most commonly referenced texts are the Hatha Yoga Pradipika and the Gherand Samhita. In these texts there is no mention of the practice of Surya Namaskara.
However, Surya Namaskara has been practiced as a religious ritual for possibly thousands of years as a form of worship to the "Sun God". It is not clear as to what the exact nature of this ritual, in terms of the asanas/stretches performed, was in the ancient times. My assumption is that the Surya Namaskara sequence, as practiced today, is a gradual evolution from its ancient origins. In the classical Surya Namaskara sequence there are twelve moves/asanas. Each of these asanas is accompanied by the chanting of a mantra. There are twelve mantras, one for each move of the Surya Namaskara sequence. Each mantra represents a prostration to one of the twelve names or manifestations of the Sun god. In that sense, this becomes a very devotional practice.
---
Kapalabhati with bandhas (video)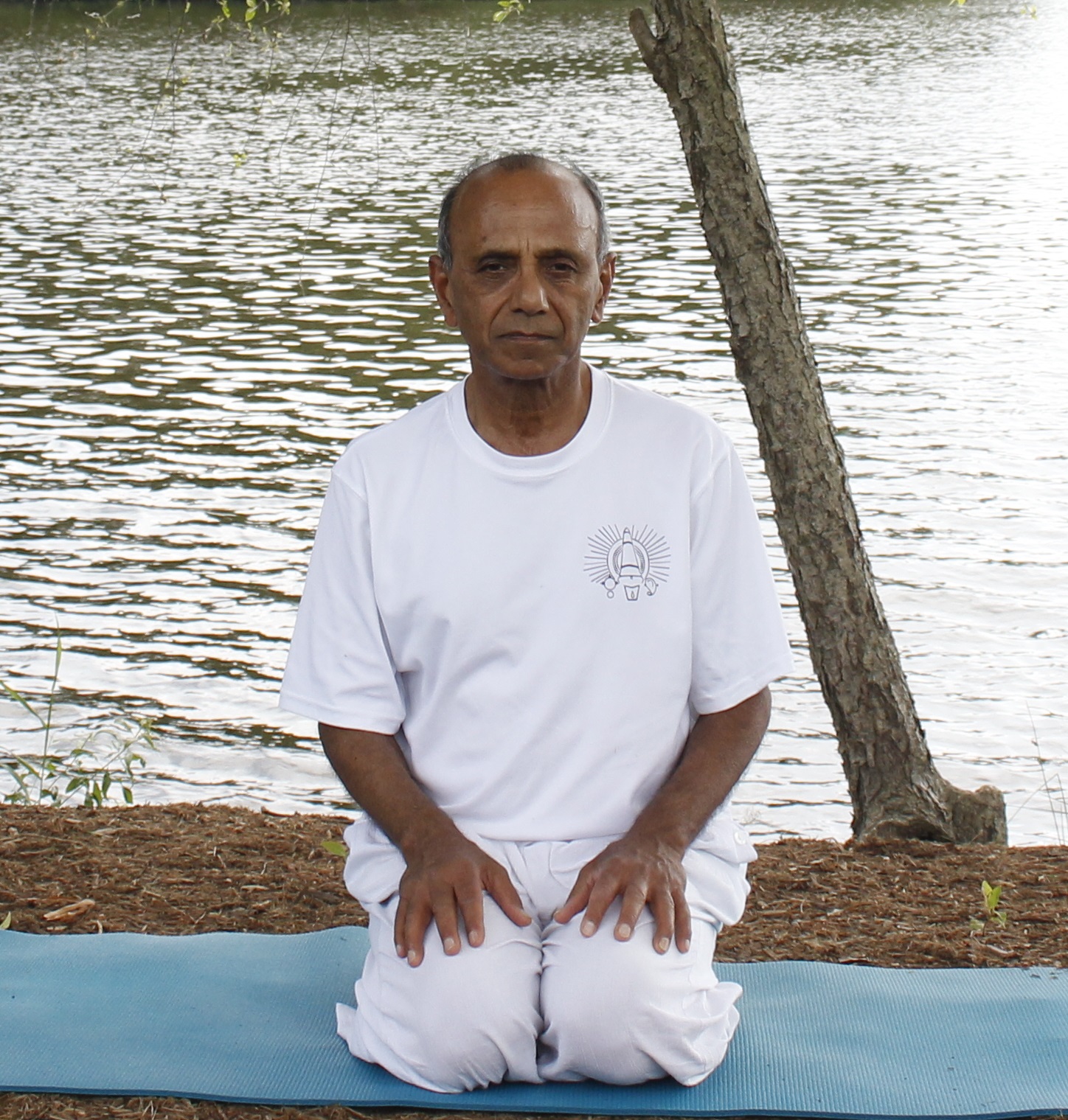 Vajrasana
In some of the earlier articles, I have discussed the concepts of Kumbhaka (breath retention) and the Bandhas (energy locks) as part of the common pranayama practices. In this article I would like to introduce kumbhaka and bandhas as an extension of the Kapalabhati practice. If you have attended a yoga class with me, you are aware that the practice of Kapalabhati is an integral part of the yoga routine that we practice in the class. In fact, we practice at least one round of Kapalabhati at the beginning of the class, right after we do the cat and cow stretch (Marjarasana) as a gentle spinal warm up. In the last segment of the class again, we include more kapalabhati as part of the pranayama routine.
As a cautionary note I would like to emphasize here that these advanced practices involving kumbhaka and bandhas should be learned under the guidance of a qualified teacher. In general, you should practice the basic techniques of pranayama without kumbhaka and bandhas for at least six to eight weeks on a regular basis before attempting these advanced techniques.
---
Upcoming Programs
14-day Pranayama Intensive, Sep 19 – Oct 2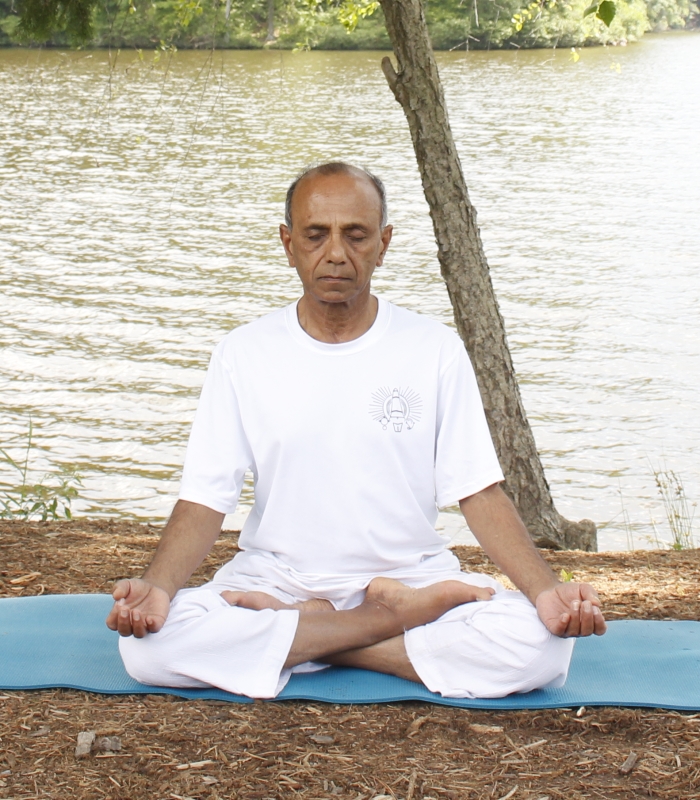 Padmasana (Lotus Pose)
I am pleased to announce the next Pranayama intensive. In this program, we will be practicing some of the main pranayama techniques given in our ancient yoga texts. I will also discuss the underlying concepts in the practice of pranayama and all the wonderful benefits that the practice can bring us.
No prior pranayama or meditation experience is required.
Here are the particulars:
What: 14-day pranayama intensive
When: Monday, September 19 - Sunday, October 2, 2016
Time: 6:00 – 7:30 AM
Location: 4000 Bearcat Way, Suite 102, Morrisville, NC 27560
Daily Routine: Light stretching (10-15 minutes), Pranayama (45 min), Relaxation (15 min), Yoga philosophy/meditation (15 min)
Commitment: A firm commitment to follow this schedule and attend every day
Fee: $90
To register: fill out the registration form, providing information in all the fields, and submit it online
---
Understanding the Mind to eliminate Stress
What: An Introduction to the Yoga Sutras of Patanjali
When: Third Saturday of the month
Next Session: Saturday, August 20, 2016

TIME: 2:00 - 4:00 PM
LOCATION: 4000 Bearcat Way, Suite 104, Morrisville, NC 27560
FEE: by voluntary donation
To register: please fill out the registration form (if you have filled the form recently, send me an email to register)
---
Yoga in the News
Yoga Therapy: The Newest Health Trend that Doctors are Paying Attention To
Wellness enthusiasts have long known the healing benefits of yoga. However, the popularity of this ancient practice is now growing among today's mainstream, especially doctors. Today, there is a rise in doctor-prescribed yoga therapy, even among Western-trained doctors.
Yoga is a Gentle Solution to Good Health, Breathe
More Americans are practicing Yoga than ever before, experts say the reason is that it has practical health benefits.
Yoga Improves Quality of Life in Men Having Radiotherapy for Prostate Cancer
The health benefits of yoga are many, but in the oncology setting, studies of the approach have focused primarily on women with breast cancer. However, a small, first-of-its-kind study by researchers at the Perelman School of Medicine at the University of Pennsylvania is exploring how yoga may also improve treatment-related symptoms in men who are undergoing radiotherapy for their prostate cancer. And the results, thus far, are promising.
---
Have a question/suggestion?
If you have a yoga-related question, please write to me and I would do my best to provide an answer in a timely manner. I would love to hear your suggestions for future newsletter articles.
back to top