Newsletter November, 2014
In this issue:
---
Upcoming Programs
12-day Pranayama/Meditation intensive, Nov 12-23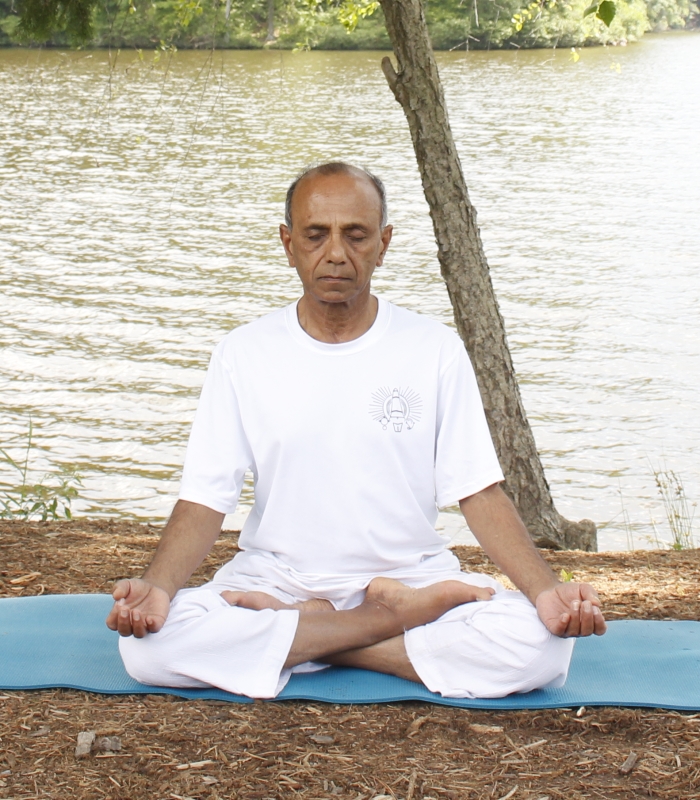 Padmasana (Lotus Pose)
When: Wednesday, November 12- Sunday, November 23, 2014
Time: 6:00 – 7:30 AM
Location: 4000 Bearcat Way, Suite 102, Morrisville, NC 27560
Daily Routine: Light stretching (10-15 minutes), Pranayama (30 min), Relaxation (10 min), Yoga philosophy (15 min), Meditation (20 min).
Commitment: A firm commitment to follow this schedule and attend every day
Fee: $75
---
Workshop - Understanding the mind to eliminate stress
What: An Introduction to the Yoga Sutras of Patanjali
When: First Saturday of the month
Next Session: Saturday, November 1,, 2014
Focus: Yamas and Niyamas (Ethical and moral guidelines)
(Visit here for a brief intro )

TIME: 2:30 - 4:30 PM
LOCATION: Integral Yoga Studio, 4000 Bearcat Way, Suite 104, Morrisville, NC 27560
FEE: by voluntary donation
---
Low back care - 6 week program
When: Every Saturday for six weeks
Next session starts: Saturday, November 1, 2014
Please Note: There will be no class on November 29 (Thanksgiving weekend)

Time: 3:00 - 4:30 PM
Where: 4000 Bearcat Way, Suite 102, Morrisville, NC 27560
Fee: $96 (for full series) + $34.99 for the cost of the text book (recommended for the program but not mandatory).

Registration required
You can make payment via paypal here (link at the bottom of the page)

Instructor: Jyoti Shah
---
Chaturanga Dandasans (Four-limb Staff Pose)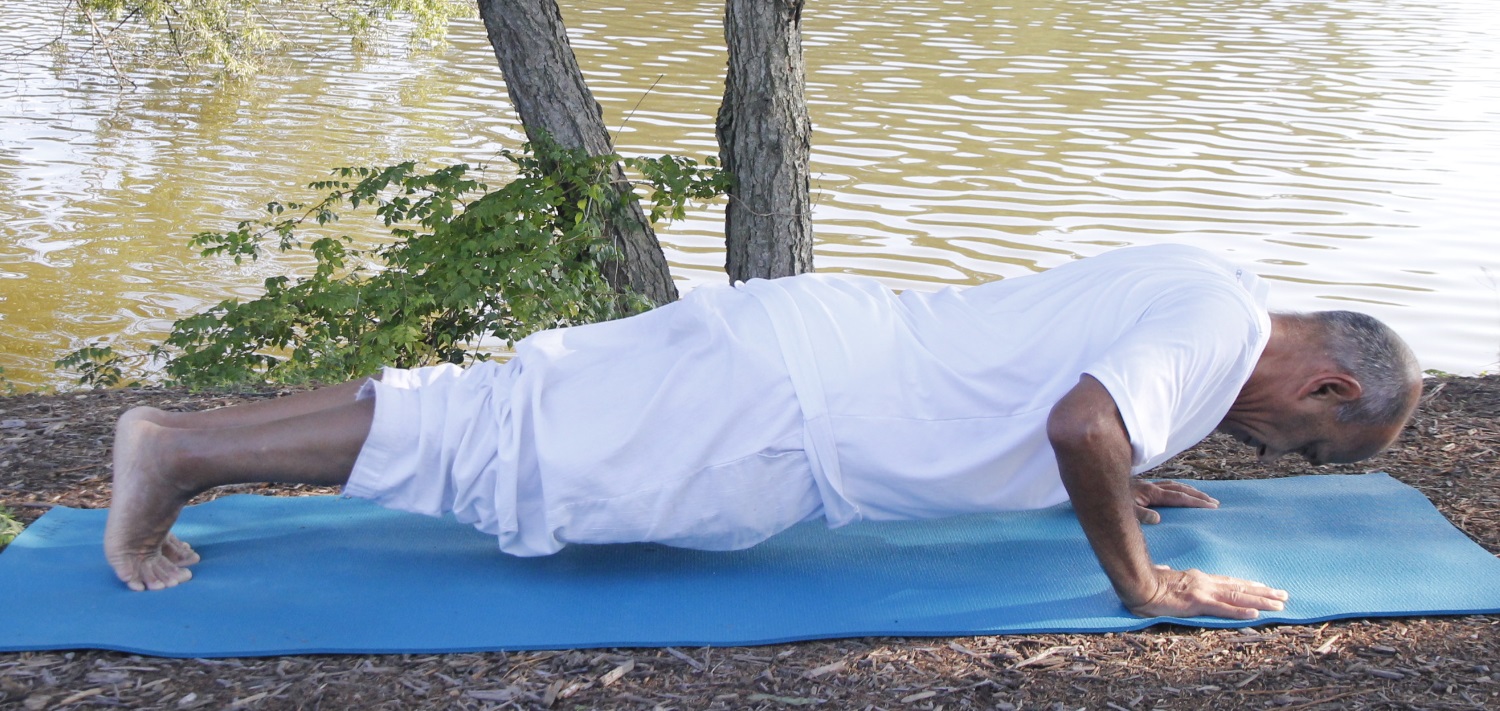 Chaturanga Dandasana
Chaturanga Dandasana (Chaturanga for short) - चतुराङ्ग दण्डासन - (Four-limbed Staff Pose) is a level 1/level 2 pose, excellent for strengthening the arms, shoulders, toning the core muscles, stretching the ankles, thighs and the spine. The Sanskrit word Chaturanga is a composite of two words - chatur meaning four and anga meaning limb; the word danda means a staff, stick or a rod, and asana means a pose. That's how "four-limbed staff pose".
In some styles of yoga, like the Vinyasa Flow or Ashtanga Yoga, the Chaturanga is an integral part of the Sun Salutation routine. In fact, it gets repeated several times during the sequence. In the classes that I teach, I introduce the pose slowly over a period of time as most of the students find it hard to get into the pose quickly. For them, I use the beginner's variation described below.
---
Introduction to Kundalini
Kundalini is an ancient Hindu system of philosophy and practice. It is based on the Tantric philosophy which, according to some scholars, predates Patanjali and his Yoga Sutras.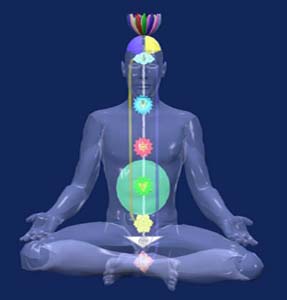 Kundalini Shakti
Two of the most significant texts that guide our current yoga practices are Patanjali's Yoga Sutras and the Hatha Yoga Pradipika (by Swatmarama). Patanjali, in the Sutras makes no mention of the term Kundalini and only a scant reference to a couple of terms from the naadi (nervous system) system used in Kundalini. The Yoga Sutras provide the basic foundation and the underlying philosophy of the yoga practice, not the actual details of the practices involved. The main guiding text that provides details of the yoga practices is the Hatha Yoga Pradipika which came out approximately one thousand years ago.
---
What is awareness?
Consciousness and awareness - two words that sometimes are used interchangeably. Do they mean the same thing? If not, what is the difference between them?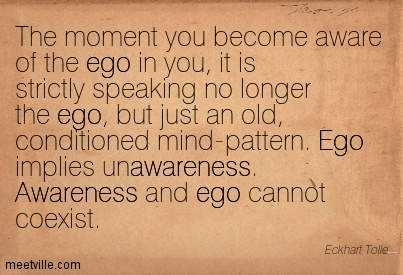 Ego and Awareness
We commonly hear a story like - "the boy fell down, his head hitting a stone and he become unconscious. By the time the paramedics came, he had regained his consciousness and became slowly aware of the surroundings". Here, we notice that the boy had to regain consciousness to have awareness. Thus, these are two separate concepts. From the yoga perspective, consciousness is an attribute of the pure soul, called "Purusha" in the Yoga Sutras of Patanjali. Awareness is an attribute of the intellect which is a part of the phenomenal entity called "Prakriti".
---
Yoga in the News
Yoga helps former Marine recover from PTSD
... study by MSU psychology researchers provided perhaps the first physiological evidence that yoga improves brain function of people with PTSD. ... "Logan's brain efficiency jumped through the roof after two months of yoga," said Jason Moser, assistant professor of psychology. "His memory improved, he was much less distracted and he was able to bounce back from mistakes with ease."
Yoga Beneficial For Cancer Patients
Yoga is extremely beneficial for patients going through cancer treatments, according to a new study. The new research shows that the practice is helpful in combination with therapy, and cancer survivors like Celeste Guernsey agree.
---
Have a question/suggestion?
If you have a yoga-related question, please write to me and I would do my best to provide an answer in a timely manner. I would love to hear your suggestions for future newsletter articles.
back to top