Newsletter December, 2010
10-day Pranayama/Meditation Intensive, December, 2010
Yes, the next 10-day Pranayama and Meditation Intensive is scheduled as follows:
When: Thursday, December 9- Saturday, December 18, 2010
Time: 6:00 – 7:30 AM
Location: Kalasrishti - 3000 Bearcat Way, Suite 112, Morrisville, NC 27513 (off Aviation Parkway)
Fee: $60
If you would like to participate or get more information, please contact me.
Origins of Yoga (Is Yoga Hindu?)
 In a recent article titled "Hindu Group Stirs a Debate Over Yoga's Soul", New York Times has brought into focus the question concerning the origins of yoga which is being hotly debated on various blogs and newspaper columns. The article highlights the recent "Take Back Yoga" campaign launched by the Hindu American Foundation (HAF).
Bhramari (Humming Bee) Pranayama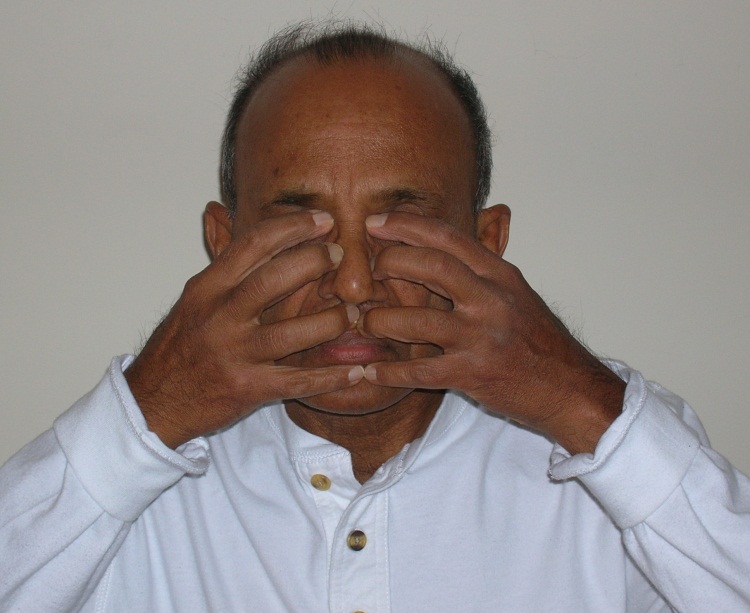 The word 'bhramari' (भ्रामरी) refers to the humming sound made by a 'bhramara' (a bumble bee in Sanskrit). The Bhramari Pranayama consists in making a deep, soft humming bee-like sound while exhaling.
Because Bhramari Pranayama has a very calming effect on the nerves and the mind, it is usually practiced as a prelude to meditation. As a part of the pranayama routine, it should be practiced at the end of other pranayama practices, usually after the alternate nostril breathing (naadi shuddhi), prior to getting ready for meditation.
Yoga Sutra - Essence of Samadhi Pada
- by Kailasam (guest article)
The Buddha diagnosed the symptoms of the Human Condition ( anxiety over birth, death, old age, and disease) and hypothesized that attachment was the cause. Sage Pathanjali pursues the diagnosis even further and proposes that the root cause is the lack of true knowledge ( agnanam). This lack is at the level of day to day life in the form of misapprehension of the true nature of the phenomenal universe and its activities as well as at the level of not knowing the true nature of our "Self".
Yoga in the News
Hindu Group Stirs a Debate Over Yoga's Soul
[Note: Read my blog post related to this debate here]
... a group of Indian-Americans has ignited a surprisingly fierce debate in the gentle world of yoga by mounting a campaign to acquaint Westerners with the faith that it says underlies every single yoga style followed in gyms, ashrams and spas: Hinduism.
Yoga for Asthma? You bet!
Asthma is a condition in which the bronchial tubes in the lungs become swollen, constricted and blocked with mucus secretions.  This causes the characteristic symptoms of wheezing, coughing, chest tightness and shortness of breath.  It's causes vary from person to person, but it has been linked to environmental conditions, genetic factors, allergies and stress.  From a yogic perspective, many people (not just asthmatics) breathe in a dysfunctional and inefficiant way.  Improving breathing patterns can increase oxygen supply to the tissues, lower stress levels, and induce muscular relaxation. .
Have a question/suggestion?
If you have a yoga-related question, please write to me and I would do my best to provide an answer in a timely manner. I would love to hear your suggestions for future newsletter articles.
back to top