Newsletter June, 2010
OM- its meaning and significance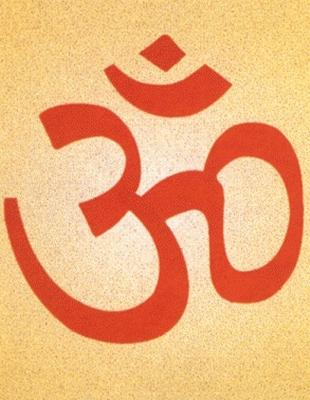 OM is considered to be the 'primordial sound'. Even before the material creation came into existence there was only the natural humming energy which resembled the sound of OM. Today, we know that one form of energy can be converted to another form - electricity to sound, electricity to heat, heat to electricity etc.  According to the famous equation by Einstein - E=mc2, all matter is nothing but waves of energy. So, when the 'powers that be' decided to create this material universe, they were able to use the ever-present humming sound vibration of OM to manifest this creation. This same vibration continues to exist all around us and even inside us. The inner sound is given the name "antar-naada" (the inner sound) which can be heard when we can tune in to our pure inner self.
21-Day Yoga Challenge
As I reported in my previous newsletter, the next 21-day yoga challenge will begin next Sunday, June 6. These programs are a great way to experience all aspects of yoga - asana, pranayama, meditation, relaxation, yoga philosophy etc on a daily basis. The students who attended the previous 21-day session reported improved flexibility, strength, balance, better sleep pattern, and an understanding of the deeper meaning and purpose of yoga among some of the benefits of the program. I am planning to continue to offer these sessions on an on-going basis.  Please contact me if you would like to find out more about future sessions.
back to top

7-day Pranayama/Meditation Session
We successfully concluded our first 7-day pranayama/meditation session.  As the name suggests, the emphasis in these programs is on pranayama and meditation. Given the very positive and encouraging feedback from the participants in the first session, I plan to offer it again in July. The future programs will be 1.5 hours in duration and will start (most likely) at 6 AM. If you are interested in learning more about it, please contact me.
back to top

Join me on Facebook
Following the current trend in social media networking, I have recently created a page for my Integral Yoga Studio on Facebook. Presently, I am still trying to figure out how best to use this page for better communication with other yoga friends and students. One of the benefits that' s mentioned is the ability to start discussion forums where you can post questions, or express your own opinions on topics related to yoga and others can contribute. Please join me on Facebook and let us try to create a rich yoga experience online.
back to top

Work Study Opportunity
I am looking for a dedicated, committed individual who can help me promote the yoga classes that I teach in exchange for free yoga lessons. Please contact me if you are interested.
back to top

Recent Yoga Research News
Please visit these sites to see results of recent research related to yoga and how yoga can provide benefits in different situations:
back to top

Do you enjoy Indian food?
My wife, Manju, now offers a takeout service for delicious, home-cooked Indian meals. Check out her website for details. Bon appetit!
back to top

Have a question?
If you have a yoga-related question, please write to me and I would do my best to provide an answer in a timely manner.
Popular Blog Posts
Meditation - a simple technique
Can yoga cause injury?
10 Steps to Time Management with Yoga
Meaning and Significance of Namaste
Oh! My Aching Back
Building Upper Body Strength
Jala Neti (Nasal Irrigation)
back to top