Newsletter October, 2016
In this issue:
---
The Three Bandhas (locks) (video)
In an earlier blog post, I talked about the concept of Kumbhaka - कुम्भक - (breath retention). A natural extension of Kumbhaka is the concept of the Bandhas - बन्ध - (energy locks). The bandhas are a very important part of the pranayama techniques as they help balance out the prana (the vital life force) in the system. 
There are three bandhas which are practiced as a part of the pranayama routine:
Mula Bandha -

मूलबन्ध -

(root lock)

Uddiyana Bandha -

उड्डियान बन्ध - (

navel lock)

Jalandhara Bandha -

जालन्धर बन्ध - (

chin lock)

Maha bandha - महाबन्ध - (Great lock) - when all the bandhas are applied at the same time after full exhalation
Enjoy the guidelines for the bandha practices as given in the video here.
---
Sarvangasana (Shouder Stand) with wall support (video)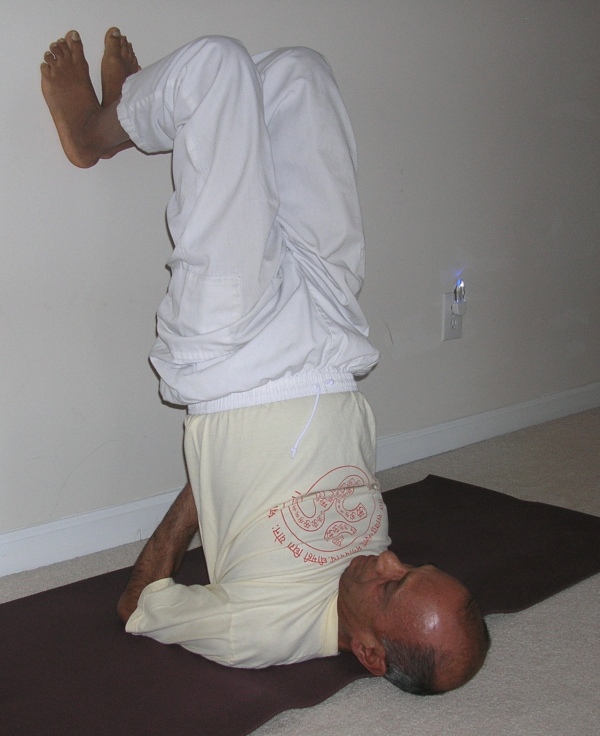 Sarvangasana with wall support
In a previous article, I discussed the Sarvangasana - सर्वाङ्गासन - (shoulder stand), along with Matsyasana (fish pose) and its variations.The technique discussed therein was appropriate for those who have adequate neck and shoulder strength so they can get into the pose without needing the wall for support. If you are a beginner to yoga practice or don't have the required strength in the neck and shoulders and the core strength, you may need the support of the wall to help you get into the pose.
In this article, I will first discuss some possible variations to get into the pose while still not using the wall for support. If that doesn't feel comfortable, then I'll take you through the steps required for using the wall for support.
I hope you will enjoy practicing with the video sequence given below.
---
Sarvangasana (Shoulder Stand) with variations (video)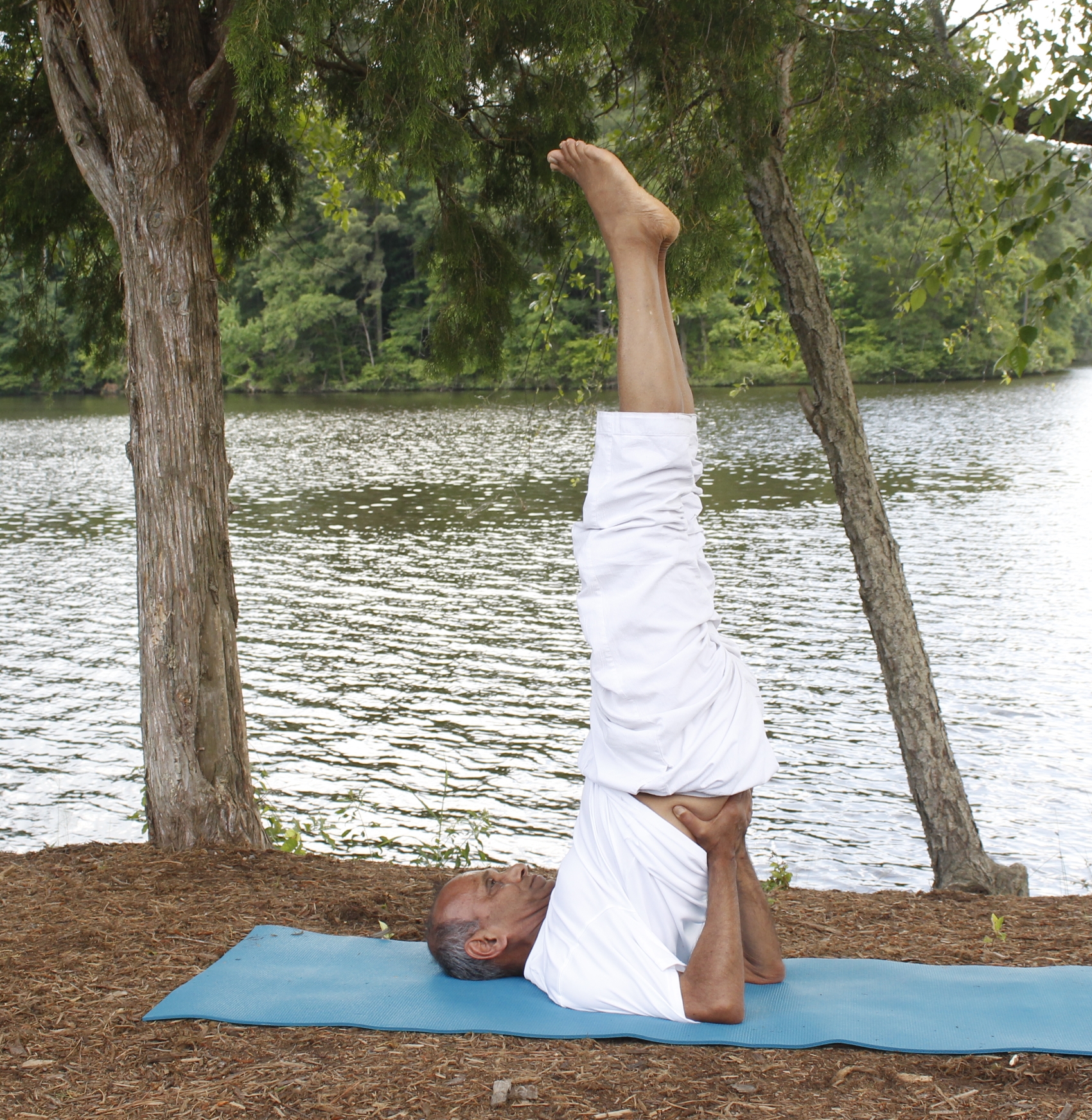 Sarvangasana (shoulder stand)
Sarvangasana - सर्वाङ्गासन - (Shoulder Stand) and Shirshasana (Head Stand) are two of the most commonly practiced inverted poses in yoga practice. They are considered intermediate level poses and should be practiced under the guidance of a qualified yoga instructor. In this article, I will be discussing the Sarvangasana (shoulder stand) along with some of the commonly practiced variations that you can attempt while in the pose. I will also be discussing the Matsyasana (Fish Pose) which is commonly practiced as a counter pose for Sarvangasana.
The word "sarvanga" is a compound word consisting of "sarva" meaning "all" and "anga" meaning "limbs". The word sarvanga implies that this pose, when practiced regularly, can bring benefits to every limb of the body. The beneficial effects of the pose are mainly achieved by harmonizing the endocrine system, in particular the thyroid and parathyroid glands.
I hope you will enjoy practicing with the video demonstration.
---
Upcoming programs
21-day Yoga Immersions, Level 2, Oct 24 - Nov 13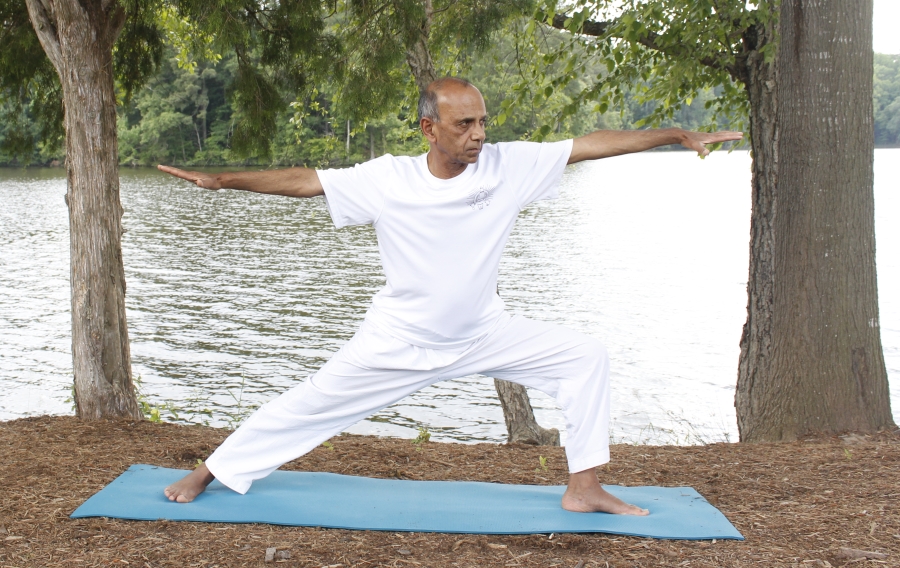 Virabhadrasana (Warrior2)
Please note the class duration will be one hour and 45 minutes.
---
Gentle Yoga with Jyoti, 8-week session, Oct 6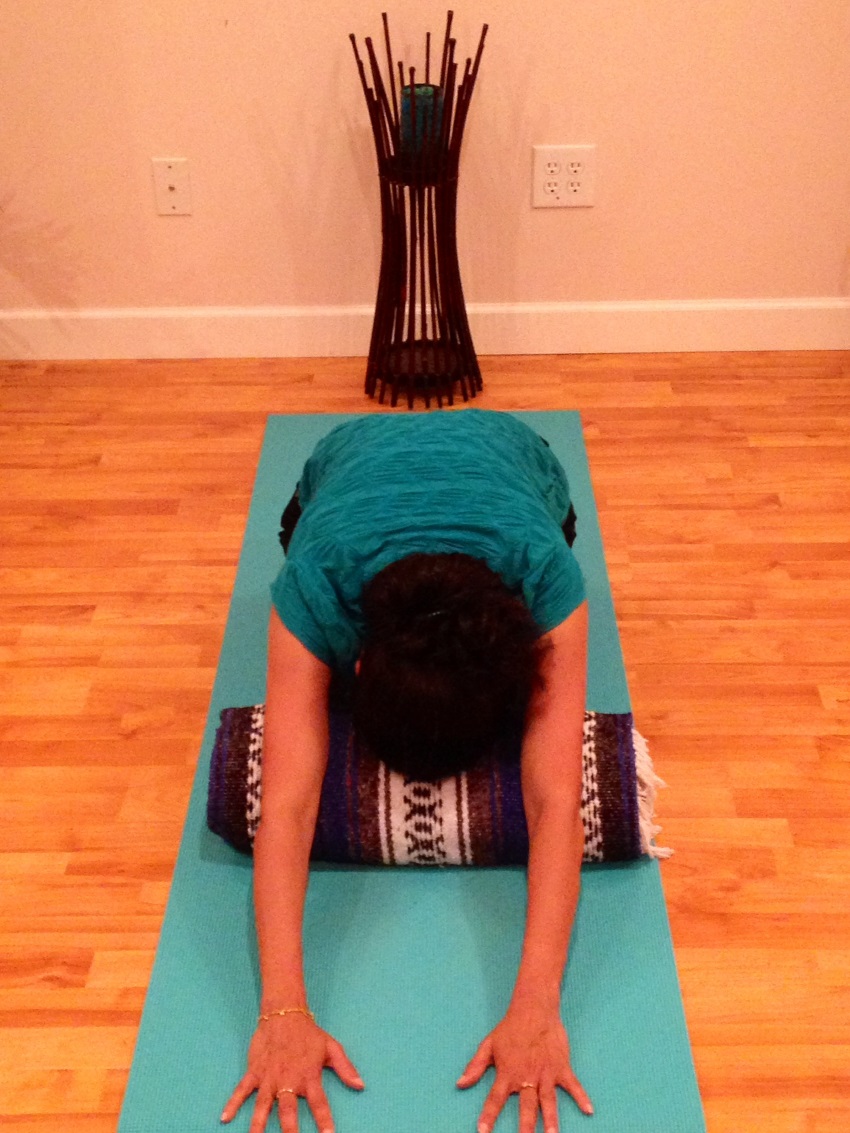 Gentle Yoga
(8-week series)
---
Understanding the Mind to eliminate Stress
---
podcast channel
As you may be aware, I have been offering monthly workshops wherein I discuss various aspects of yoga philosophy. The main focus in these workshops is to discuss the Yoga Sutras of Patanjali in some depth. In addition, from time to time, I also discuss concepts from the Bhagavad Gita, Upanishads and other related ancient scriptures. In order to preserve these talks for future reference, I have been making an audio recording of these discussions and sharing them with the participants. These audio recordings are now available on the podcast channel on my blog. You are welcome to download these audio recordings for your use. In addition, you can listen to these podcasts as well as subscribe to them on itunes as well.
---
youtube channel
As you would have noticed from many of the recent posts on my blog, I have been adding short videos of many of the commonly practiced asana and pranayama sequences. I strongly urge you to subscribe to my youtube channel and visit the channel frequently to get instructions for your own asana and pranayama practices. Please share the link to the channel with your friends who might benefit from these detailed video instructions.
I would love to hear your feedback and, of course, would welcome suggestions for future videos that you would like to see on the channel.
---
Yoga in the News
A bad diet is worse than drugs, alcohol and tobacco combined
Meditation and Aging
Scientists have discovered a fundamental process of aging in our cells that occurs on the strands of our DNA. This discovery won the Nobel Prize in medicine in 2009. This discovery is important to everyday life because we now know the speed of aging can move faster or slower and we have some control over the process. Aging can be seen to literally speed-up from stress and slowdown from meditation.
Yoga helping Swedish inmates one pose at a time
"In the yoga group we saw a decline in impulsivity, increased attention span and they estimated that their antisocial behaviour had gone down – for example how many conflicts they were part of – than the rest"
Yoga for Parkinson's Disease
Studies suggest that exercise may reduce oxidative stress in Parkinson's disease. Yoga, a popular exercise modality, uses poses, meditation, and breath-control techniques to help improve physical function and psychosocial wellbeing.
---
Have a question/suggestion?
If you have a yoga-related question, please write to me and I would do my best to provide an answer in a timely manner. I would love to hear your suggestions for future newsletter articles.
back to top