Newsletter May, 2016
In this issue:
---
21-day Yoga Immersion (April 2016) – feedback from students
Most people tend to practice yoga with the main objective of achieving physical well-being. As a result they focus only on the "asana" (physical postures) part of yoga practice. If we go by the eight limbs of yoga defined by Patanjali in his Yoga Sutras, then asana is only one of those eight limbs. In fact, if we dig a little deeper, we realize that the word asana refers ONLY to a sitting posture. The word "asana" is derived from the Sanskrit root "aas (आस्)" which literally means "to sit". The word asana means either the posture you sit in or the seat that you sit upon.
---
What causes fluctuations of the mind? – the Five Vrittis
"... There is constantly something or the other happening in the mind – thoughts, worries, anxieties, likes, dislikes, variety of emotions, negative feelings, positive feelings, planning, scheming …. and the list can go on. The change in the mind is continuous. This constant change or fluctuation is what has been termed a "vritti" by sage Patanjali in the Yoga Sutras."
---
Pratyahara (Sense Withdrawal) Meditation (audio)
In this segment, I will take you through a sequence of guided meditation. In this meditation the objective is to disengage the mind from any influence from the five senses. This will help us focus the mind inward which will help us get into a deeper state of meditation. This state of the mind is called Pratyahara, which in one of the eight limbs of yoga called "Ashtanga Yoga" in Patanjali's Yoga Sutras. I will guide you through a sequence wherein we will connect with each of the five senses one at a time and then disengage from it. 
---
Surya Namaskar Yogathon Experience, April 2016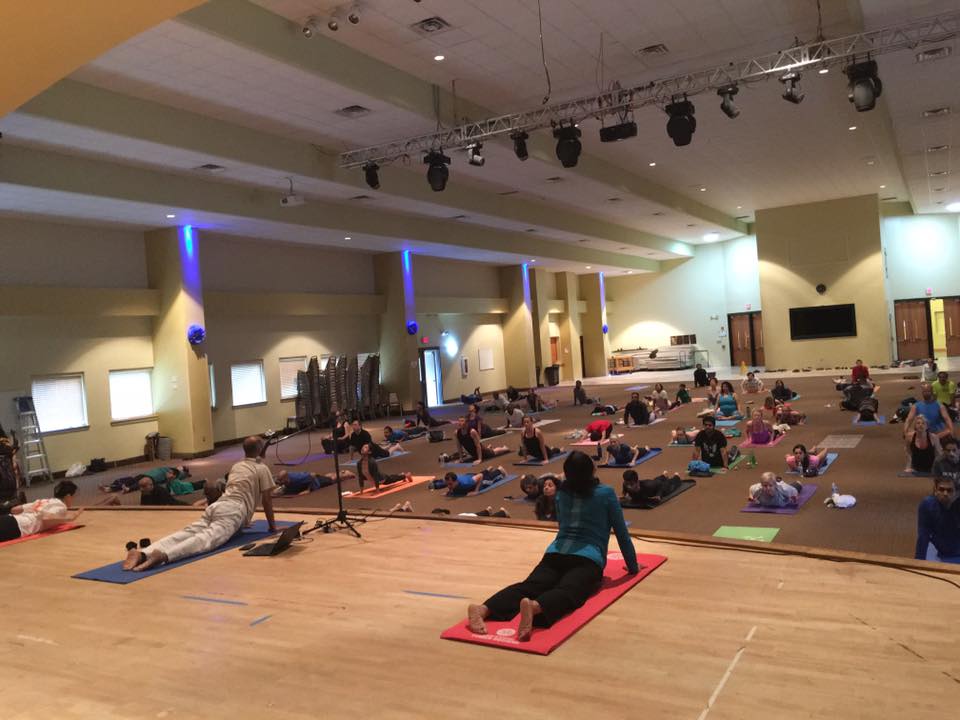 On Saturday, April 2, 2016, the Hindu Temple (HSNC - Hindu Society of North Carolina) organized a yoga event dubbed as "Surya Namaskar Yogathon" wherein we practiced 108 rounds of Surya Namaskar (Sun Salutations).
If you have attended a yoga class, be that at a yoga studio, a health club, gym, or online, chances are that Surya Namaskar (Sun Salutations) was a part of the routine. Surya Namaskar has now become an integral part of most yoga styles that are practiced. As expected, each style of yoga introduces its own variations into the Surya Namaskar routine.
---
Recently added podcasts
---
Upcoming Programs
14-day Pranayama Intensive, May 9-22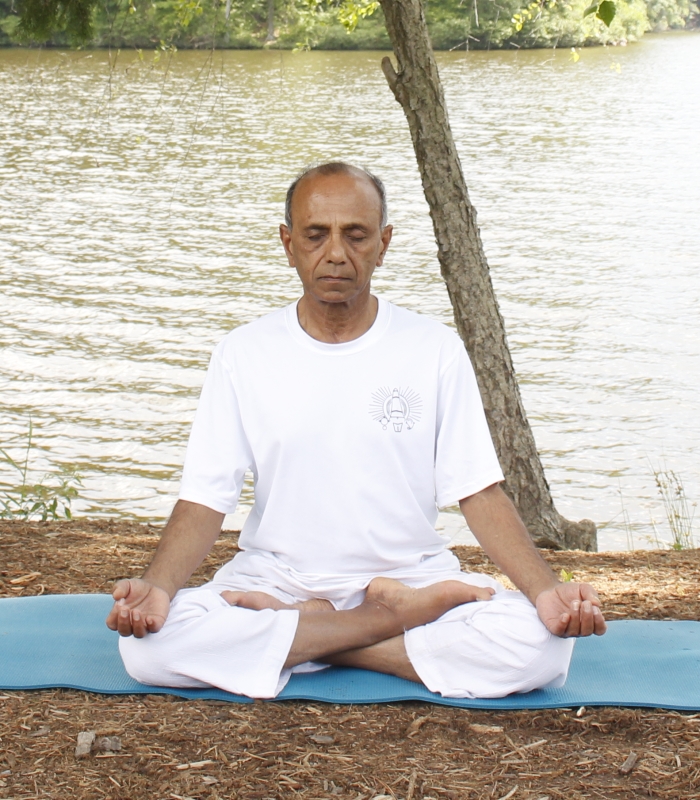 Padmasana (Lotus Pose)
What: 14-day pranayama intensive
When: Monday, May 9 - Sunday, May 22, 2016
Time: 6:00 – 7:30 AM
Location: 4000 Bearcat Way, Suite 102, Morrisville, NC 27560
Daily Routine: Light stretching (10-15 minutes), Pranayama (45 min), Relaxation (15 min), Yoga philosophy/meditation (15 min)
Commitment: A firm commitment to follow this schedule and attend every day
Fee: $90
To register: fill out the registration form, providing information in all the fields, and submit it online
---
Understanding the Mind to eliminate Stress
What: An Introduction to the Yoga Sutras of Patanjali
When: Third Saturday of the month
Next Session: Saturday, May 21, 2016
Focus: Introduction to Yoga Sutras of Patanjali; Eight limbs of yoga
(see below for more details)

TIME: 2:00 - 4:00 PM
LOCATION: 4000 Bearcat Way, Suite 104, Morrisville, NC 27560
FEE: by voluntary donation
To register: please fill out the registration form (if you have filled the form recently, send me an email to register)
---
Free yoga at Shelley Lake
Day and Time: Every Sunday 7:30 AM-8:30 AM - Weather Permitting!
Season: May 8 - September 25, 2016
Where: Shelley Lake Park - 1400 West Millbrook Road Raleigh, NC 2761
(Parking at the Smaller Lot off of Millbrook Rd and the Yoga area is on the East Side of the Dam)
These classes are taught by various yoga teachers from the Yoga Teachers of the Triangle organization.
---
Yoga in the News
Yoga Shows Promise as Way to Improve Quality of Life in Pulmonary Arterial Hypertension (PAH) Patients
"... The results show that with a regimen of IY, patients reduced their levels of anxiety and depression while showing no adverse effects to the treatment therapy."
Yoga for asthma
" ... We found moderate-quality evidence that yoga probably leads to small improvements in quality of life and symptoms in people with asthma. "
Yoga: Clear and Science-Based
Several articles are available here that highlight yoga research on various conditions.
UC San Diego Study Finds Beneficial Effects of Yoga on Heart Rate and Cellular Responses to Stress
This Veteran's Life Was Transformed by Yoga and Now He's Helping Others Heal
---
Have a question/suggestion?
If you have a yoga-related question, please write to me and I would do my best to provide an answer in a timely manner. I would love to hear your suggestions for future newsletter articles.
back to top