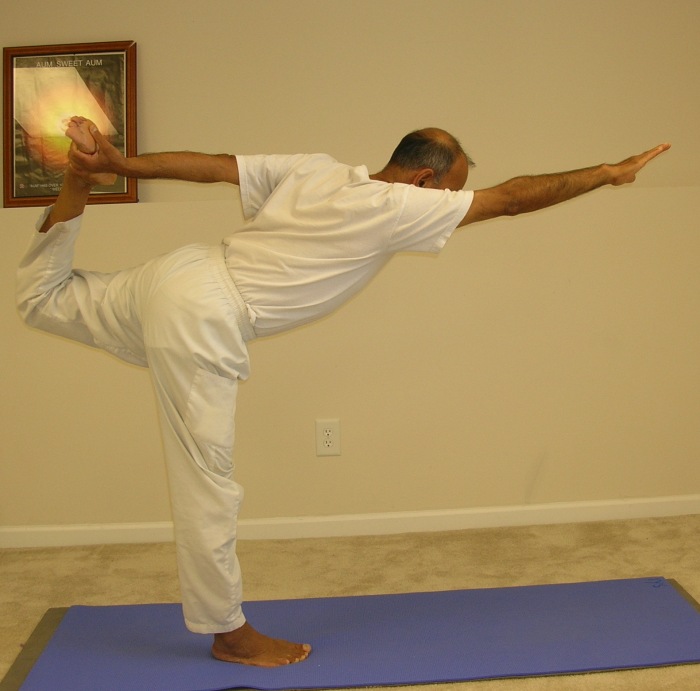 Natarajasana (Dancer's Pose)
Nataraja (nata means a dancer and raja means the king or the lord), king-dancer, is the name of Lord Shiva (one of the trinity of Hindu gods – Shiva, Vishnu, and Brhma). In addition to being the dissolver of the universe, Shiva was also the Lord of dance and created over a hundred dances. Natarajasana – नटराजासन – is dedicated to Lord Shiva.
Natarajasana is an elegant-looking balancing pose which also involves a great stretch for the upper thighs (quads) as well as the spine and the shoulders.
Step by Step
Audio clip: Adobe Flash Player (version 9 or above) is required to play this audio clip. Download the latest version here. You also need to have JavaScript enabled in your browser.
(click on the arrow for audio instructions)
Come to a comfortable standing position with the feet together and arms alongside the body. Inhale, shift your weight onto your right foot, and, bending the left knee, lift your left foot toward your left buttock. Pull the right knee cap up to keep the standing leg straight and strong.

Reach back with your left hand and grasp the inside of the left foot.
Stretch the right arm in front and keep it parallel to the floor throughout the pose
Begin to lift your left foot up, and back by pressing into the hand with the foot, away from your torso. Try to extend the left thigh behind you and bring it parallel to the floor.
Raise the left foot up behind you as high as you comfortably can and keep bending forward slightly at the same time.
While in the final pose, make the effort to keep both the buttocks at the same level. Stay in the pose for about six to eight breaths
To come out of the pose, slowly release the left foot and the right arm down and come back to the original standing position.
Repeat the above steps on the other side
Nataraja Variation (with strap)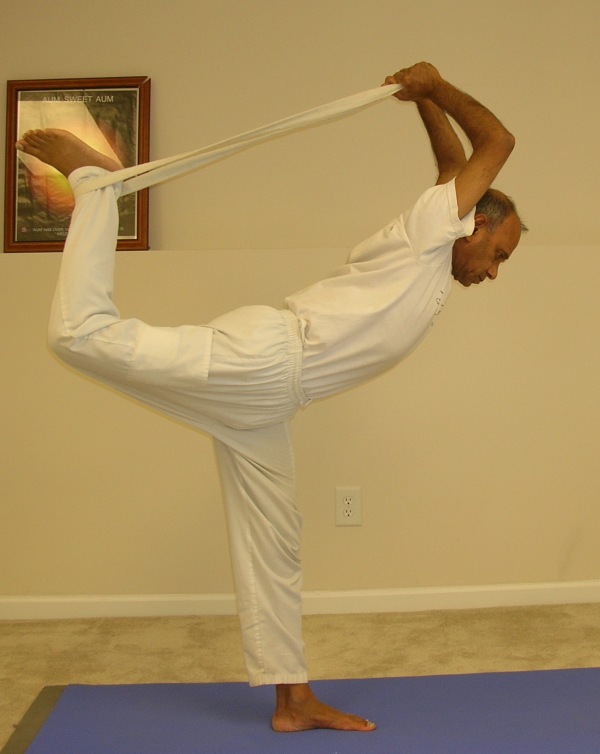 Natarajasana with strap
In order to provide additional stretch for the shoulders, you can use a strap.
Use the strap to hook the left ankle behind you and hold the strap from above your head.
Begin to lift your left foot up, and back by pressing into the strap with the foot, away from your torso. Try to extend the left thigh behind you and bring it parallel to the floor.
Stretch the shoulders up and back and keep bending forward slightly at the same time.
While in the final pose, make the effort to keep both the buttocks at the same level. Try to maintain the final pose for about six to eight breaths
To come out of the pose, slowly release the left foot and the arms down, release the strap, and come back to the original standing position.
Repeat the above steps on the other side
Benefits
Provides a great stretch for the shoulders and chest
Stretches the thighs – quads and hamstrings, groins, and abdomen
Strengthens the leg that supports the body weight
Improves physical balance and mental focus