At the end of the last 21-day yoga challenge program, as per our tradition, all the participants got together over a potluck breakfast. These breakfast get-togethers provide a great opportunity for everyone to socialize and meet each other in a relaxed and informal atmosphere. Moreover, we all get to sample some of the most delicious veggie dishes that everyone shares. Here are the recipes for three of the many delicious dishes that we enjoyed that day.I would like to express my gratitude to Tim, Claudia and Kristen for sharing these recipes.
Mexican Horchata
(Contributed by: Tim Ehlich)
Ingredients
1/2 cup sugar
1 cup rice
1 cup water
4 cups of† milk or carnation evaporated milk
1/2 teaspon cinnamon
1 teaspoon vainilla
Instructions
Place rice in a bowl with enough hot water to cover Let sit overnight on counter Next day, remove the water Place rice, 1/2 cup fresh water and 2 cups milk in a blender until rice is all ground up.
Add sugar, vanilla, and cinnamon, Blend.
Add the remaining two cups milk, and 1/2 cup water.
Blend
Strain through thickly layered cheesecloth (more than once maybe necessary; do not squeeze the cloth.)
FAST RECIPE FOR VEGGIE ENCHILADAS DE MOLE
(Contributed by: Claudia Behm)
Ingredients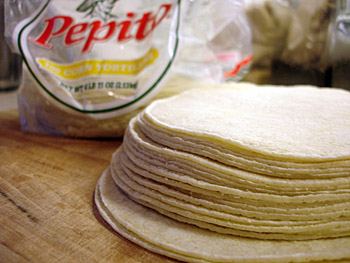 A warmed serving dish (13 1/2 x 9 x 2)
12 corn tortillas
The filling
1 1/3 cups of mixed vegies cooked and shopped in juliane style (you can include potatoes, carrots, green beans etc).
½ white onion shopped
Garlic and onion salt to taste (not to salty because the queso fresco has a salty flavor)
2 tbsp of canola oil
2 pkgs of Sazón Natural Goya (veggies no salt added) – http://www.goya.com/english/product_subcategory/Condiments/Sazon-Bouillon
The Sauce
Garnish
Instructions
In a medium to large frying pan pour the jar of mole and add the 4 parts of water. Follow the instructions from the jar (really easy).
Stir the sauce and continue cooking until it blends very well and it gets a little bit thicker. Careful because the mole gets to thick and could get burned if you cooked for longer time than necessary.
The Filling
Heat the 2 tablespoons of canola oil and caramelize the chopped onions, when they start getting transparent add the veggies and season them with Goya, onion and garlic salt.
The Enchiladas
Heat 6 tablespoons of canola oil in a frying pan. Dip the tortillas one by one face down in the the oil for a few seconds then remove it and cover the face with a thin layer of the sauce. Put some of the cooked veggies across the tortilla, roll it up; place the tortillas side by side on the serving dish.
Thin down the remainder of the sauce a little with more water and pour it over the enchiladas.
Garnish with the grated cheese and onion rings and serve immediately.
Note: Once the enchiladas are assembled they should be used right away. The sauce can be made ahead of time and it freezes very well too.
You can get an idea on how to make these enchiladas by watching this video, I just change a couple of things to fit our needs. So, I didn't add the chocolate to the mole and substitute the meat for veggies and the broth for water:
http://www.youtube.com/watch?v=oQJS5iPY2-k
Tomato Pie
(Contributed by: Kristen Daniels)
Ingredients

6-8 Tomatoes (I like to use a variety of heirlooms) Pie crust
1 bunch green onions – sliced
2 cups shredded sharp cheddar cheese
3/4 cup mayonaise
10-15 fresh basil leaves thinly sliced
Freshly ground pepper
1/4 cup Parmagiano Reggiano grated
Instructions
Thinly slice tomatoes.  Let tomatoes "sweat" by spreading them out on paper towels.  Cover the tomatoes with more paper towel.  Let them sweat for at least 2 hours.  Bake empty pie crust for 12 minutes in oven at 350 degrees.  Mix cheese, mayo, basil, pepper together in a bowl.  Place layer upon layer of tomatoes in pie crust until half full.  Top with half of the cheese mixture and fill with the remainder of the tomatoes.  Sprinkle the reggiano cheese on the tomatoes and top with the remaining cheese mixture.  Filling should be approximately the same height as the crust.  Deep dish pans work the best.
Bake at 350 degrees for 40-45 minutes
Let cool for 15 minutes before cutting.  As a meal, I usually serve the pie with a light cucumber, avocado, red pepper salad with a dijon vinaigrette dressing.
ENJOY IT!!