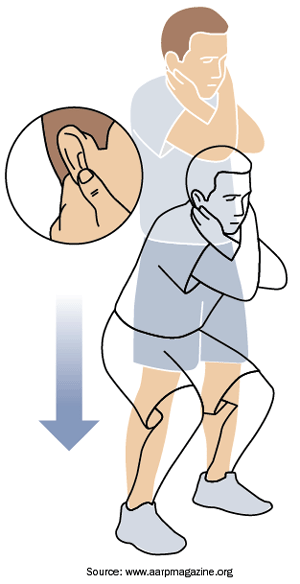 Super-brain Yoga! Yes, that's the name of this yoga routine that we were asked to do as punishment in our early school days back in India. I wrote about it in my May newsletter.
Recently I received an email from a friend on the same topic. In this email was enclosed an article about the practice. I am not sure who the original author of the article is. However, since I thought the article was well written with lots of valuable information, I decided to publish it as a blog post.
If you know who the author is, please do let me know so I can acknowledge the person on the blog. Here is the article… (with only minor editorial changes). 
Please read the complete article before you watch the video – it will give you the proper context.
Folks, especially the seniors who grew up in India (or Uganda or Kenya), you might remember the days when you were in elementary school and, if you misbehaved or failed to do your assigned homework, the teacher would punish you by telling you to do a certain number of what we used to call in Gujarati "uth bess"" or "uthak bethak," or squats – crossing your arms and holding your left ear lobe with your right thumb and forefinger and right ear lobe with your left thumb and forefinger. Well, in case you didn't know, that "punishment" has now become a must-do exercise and (I think it was three or four years ago) has officially been "patented" by Master Choa Kok Sui (more about him later) as Super Yoga in America and many other parts of the world.
Many doctors, medical researchers of prestigious universities (e.g. Yale), physical therapists, occupation therapists, teachers and others claim that the so-called exercise has excellent "cognitive" benefits. A number of studies have shown that this regimen can be very beneficial to children with disabilities such as ADHD/ADD, developmental and cognitive delays, Down syndrome and specific learning disabilities. Children studied showed significant increase in academic and behavioral performance, greater class participation and improved social skills.
A few months ago I stumbled upon an interesting article in one of the three health newsletters I subscribe to that about this simple regimen that can be very beneficial to restore your memory. So I started doing the regimen twice a day, once in the morning before I do my meditation and once in the evening when I do my 30 minute yoga before I go for my 2.3-mile brisk walk. Now I have read a couple of more articles about the benefits of """uth bess""" (in Tamil, "Pillayar Thoppukarnam," a kind of a routine many people do when they do Ganesh puja). Most people, including Chandu Radia, worry about deterioration of their memory as they age and many studies say that it is a very valid concern. In fact, according to the couple of articles I read about aging, studies have shown that more than half the people age in their late 60's, 70's and 80's have at least some memory loss and about 15 to 18% develop more serious problems with their memory. But all these studies also say that there are ways to save your aging brain from loss of memory. Actually, they say that around the time we hit early 30's our brains begin a slow but steady downward trajectory. But the good news is that according most new studies, you can counteract age related changes in your brain with a surprisingly simple regimen of activities to "fortify," so to speak, your mental muscle power. The "uth bess" or Super Yoga, as it is now called, simple as it is, is perhaps the most effective technique to "fuel" and sustain the healthy brain.
We all know that human brain is truly amazing – even more sophisticated than your computer or iPad or anything else – because it gives us a powerful potential. They say that a baby is born into the world with around 100 billion – yes, a BILLION – or so brain cells, give or take a few million. But to make the most of one's brain, the studies say that it needs to be exercised and nurtured like every other part of the human system. It is very important to the necessary regimen as you age (but even during childhood) for the brain to stay alert and healthy throughout your aging days. Many nurses, physicians and other health professionals these days use this ""uth bess"" or Super Brain Yoga to improve health of some of their patients while educators and therapists use it as an intervention to support student success. Whether young or old, all stages and ages can use Super Brain Yoga as a simple and effective technique to not only enhance wellbeing but also to ensure a happy and productive life as we age.
Some people claim that the technique was developed a guy by a Phillipino guy, Master Choa Kok Sui who studied a wide range of healing arts (notably at a time when they were not yet validated as sciences), including pranayama, and gained a level of knowledge on the subject matter of brain health. He studied under spiritual guides, who themselves were spiritually advanced and extraordinarily powerful healers, and whose guidance were inevitably crucial to the development of Modern Pranic healing. He has authored various books, including the one about Super Brain Yoga where he talks about this technique many of us know as ""uth bess"".
Having said that, now let us talk a little bit about regimen ""uth bess"" itself. The "correspondence" of the ear to the whole body was long ago recognized by not only the ancient Chinese acupuncturists but also by the great rishis (teachers) of India who, in fact, are the ones who developed this technique to increase people's intelligence. Now we know it worked because it was based on the principle of ear acupuncture. As I said earlier this simple exercise regimen offers many benefits to adults seeking brain wellness into their senior years, and patients with Attention Deficit Disorder (ADD), Attention Deficit Hyperacticity Disorder (ADHD), Down Syndrome, and other developmental challenges and cognitive delays. So, how exactly does this simple regimen help the brain? Well, the simple exercise allows/helps the body's energy centers to absorb, digest and distribute prana to the different parts of the body – brain, eyes, forehead, mouth, ovary, temple etc. by pressure from the exercise. They say that it also gives greater psychological stability to the mind. This is briefly what some of the articles said:
The right ear lobe corresponds to the left brain.
The left ear lobe corresponds to the right brain.
So, now let us discuss some of the details of the actual exercise: When the right ear lobe is gently squeezed with the left thumb and left index finger with the thumb outside, it produces the necessary energy connection. Similarly, when the left ear lobe is gently squeezed with the right thumb and right index finger with the thumb outside, it produces the necessary energy connection and, it is rather difficult for me to explain but it says that this "…causes the right brain and pineal gland to become energized and the activated connection causes the left brain and pituitary gland to become energized and activated." It also says that "…..for energizing and activating the Left Brain and the Right Brain, Get it? The correct arm position is important for energizing and activating the brain. The whole exercise routine will take less than three minutes! Briefly, then:
Left arm must be inside, while the right arm must be outside (over the left arm)
Facing the correct direction (some say north, others say east (I guess any is OK)
Positioning the fingers properly (thumb in the front and the index finger behind the ear lobe)
Breathing correctly (inhale when squatting down and exhale while getting up from the squat
Connect your tongue to your palate
Do at least 20 to 25 squats in the morning and the same number in the evening
I probably said more than you wanted to know but, then, what is new, right?
Now turn on your speakers, click open the link below and watch this 5-minute video which was on CBS News a couple of years ago. There are a number of other videos about the exercise itself. You will see the list on the right when you turn on the video.