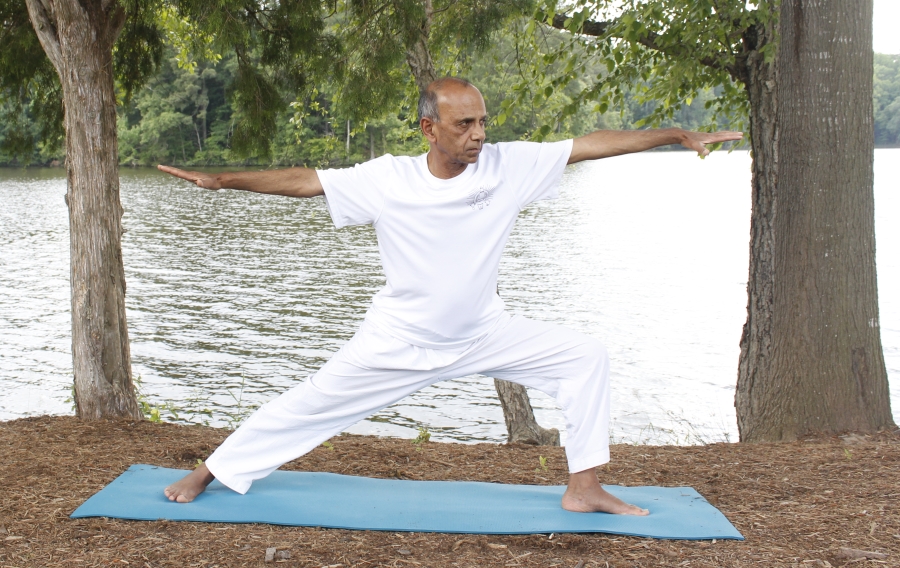 Virabhadrasana (Warrior2)
As you may be aware, I have been teaching these early morning yoga programs – 21-day yoga immersion, the 14-day meditation and 14-day pranayama intensives, from time to time. Many of the participants from these programs have expressed a desire to have an occasional early morning yoga class which can help them rejuvenate their own personal yoga practice.
Here is your opportunity to either begin a new yoga practice or rejuvenate an existing one. I invite you to join me for this new early morning Suryodaya Yoga class as per details below.

No prior asana, pranayama or meditation experience is required.
What: Suryodaya (Sunrise) Yoga
When: Sunday, Oct 15, 2017
Time: 6:00 – 7:30 AM
Location: 4000 Bearcat Way, Suite 102, Morrisville, NC 27560
Routine: Asana (postures), Pranayama (15 min), Relaxation (10-15 min)
Live video streaming: the class will also be broadcast live via "facebook live".
Fee: Voluntary donation (cash, check or paypal); Suggested donation:

$10 (at the studio)
$3 (if you are attending via live video)

To register: fill out the registration form, providing information in all the fields, and submit it online
Do not hesitate to contact me if you have any questions. I look forward to your participation.