Here are two more recipes for dishes that we enjoyed at the potluck breakfast at the end of the last 21-day yoga challenge.
Granola Crumble
(contributed by Prakash Bhave)
Ingredients
1 stick of melted butter
1/2 tsp of cinnamon
3 cups oats
1 cup raisins
1 cup pecans (break into small pieces)
1 cup sweetened condensed milk
Instructions
mix and spread on to a pizza pan
bake at 325C for ~30 minutes until it turns dark brown
Quinoa Pulao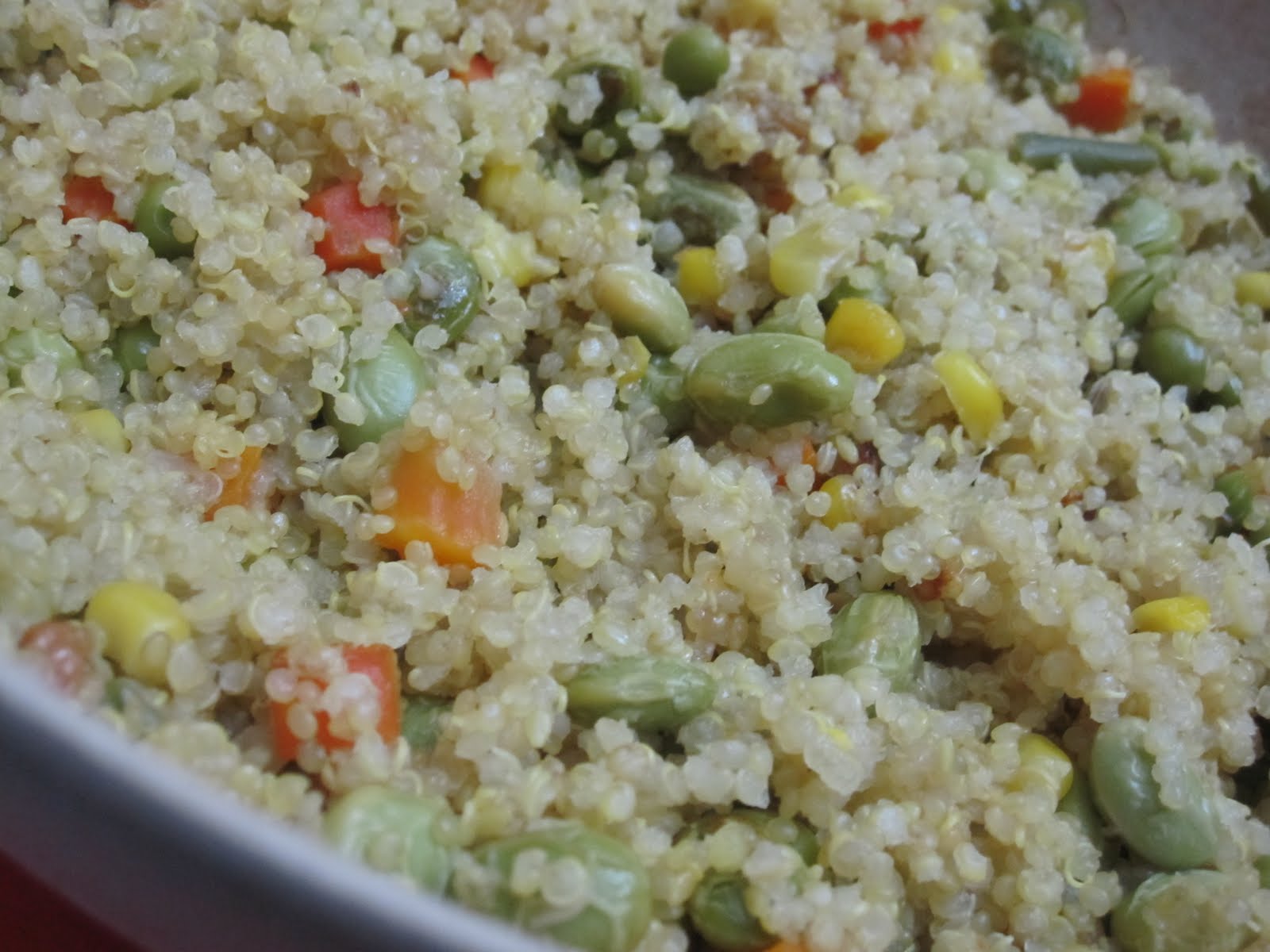 (Contributed by Manju and Subhash Mittal)
I was introduced to quinoa about a year ago at one of these potluck breakfast sessions. On doing some online search, I found that quinoa is a very healthy substitute for rice or even wheat. Quinoa is gluten-free and is highly rich in protein. You can make almost any recipe with it that you can make with rice. So, here is one for "quinoa pulao" which is similar to "rice pulao". It has a nice grainy taste. Hope you'll enjoy this recipe.
Ingredients
3/4 cup Quinoa
1/4 onion chopped
2 cups mix of the following veggies

green pepper diced
carrots – diced
Green peas
Cauliflower (cut into small pieces)

1 tsb ginger-garlic paste
1/2 tsp cumin seeds
1/2 tsp turmeric powder
Salt and black pepper to taste
2tbs olive oil
2 Cups of water
chopped cilantro to garnish
Directions
In a 4-qt sauce pan heat oil on high-medium, add cumin seeds; once fragrant add salt and pepper to taste, turmeric powder and sauté for 30 seconds
Mix in onion, veggie mix, and ginger-garlic paste,  saute for 5 minutes
Add in quinoa and sauté for 2 minutes, add in water
Transfer to a pressure cooker and cook until one whistle
Ready to serve when you are able to open the lid of the cooker
Sprinkle cilantro to garnish and enjoy!