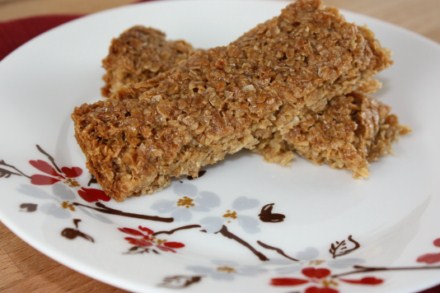 Following our tradition, we had a potluck breakfast last Sunday to "celebrate" the conclusion of the last 12-day pranayama and meditation intensive. That day also coincided with the second leg of the previous 21-day yoga challenge program. So, several of the participants from that course also joined in. As always, everyone brought some of the most delicious, mouth-watering dishes to the table. If for nothing else, one could attend these intensive sessions just for the taste and variety of the items that are served at these breakfasts!
One of items that we had this time was this exquisitely tasting granola bars. These were made with healthy and nutritious organic ingredients. Here is the recipe:
Ingredients
2 cups organic quick cooking oats
1 1/3 cups whole wheat flour
1/4 cup organic cane sugar
1 cup slivered almonds, dried cranberries, or chocolate chips – or other combination
1/2 tsp. cinnamon powder
1/4 tsp. salt
1/2 cup olive oil
1 cup apple juice
1 tsp. vanilla
2 Tbs. sesame seeds
Method
Mix dry ingredients together in a bowl. Mix wet ingredients separately, then stir into dry ingredients until well mixed. Spread into an oiled 8×10 pan, should be about ~1/2" thick. Bake at 275F for 60-75 minutes until dry and golden brown around the edges.
Give this recipe a try and let us know what you think. Please post your comments below.